Some changes are coming to how Microsoft will sell and bill their cloud subscriptions services such as Microsoft 365. Towards the end of 2021, Microsoft announced changes to the Cloud Solution Provider (CSP) Program, which has resulted in the 'first substantial price increase to its licensing programs for over a decade.
What is the impact on my business?
Customers of Microsoft services such as Microsoft 365, Windows 365, Power Platform, and Dynamics 365 could all face a 10-25% price increase. The Microsft online services that are affected include but are not limited to:
Microsoft 365 Business Basics

Microsoft 365 Business Premium

Office 365 E1

Office 365 E3

Office 365 E5

Microsoft 365 E3
View full stats here https://www.microsoft.com/en-us/microsoft-365/blog/2021/08/19/new-pricing-for-microsoft-365/
There will be three subscription types under Microsoft's New Commerce Experience (NCE):
Monthly Subscriptions
Similarly to the current monthly subscription, you will be billed monthly and have the flexibility to increase the number of seats/licences your business is using. However, you will no longer be able to decrease the number of seats your company is using. You will now have a 72-hour cancellation/adjustment period from the time of purchase, or this can be altered at the end of the monthly term.
The monthly subscription cost under the NCE will come at a premium of +10-25% across all online service plans.
12-month Subscriptions
The 12-month subscription has similar elements as the monthly subscriptions; however, it has the benefits of being billed either monthly or annually and offering a price lock on all subscriptions, which provides the customer security against unplanned costs.
You will still have the option to increase the number of seats; however, you will no longer be able to decrease seat numbers once again.
36-month subscription
Available late 2022.
This subscription type has all the benefits of the 12-month but for a more extended period. Customers will have the option to be billed monthly, annually, or upfront and will also benefit from price locking for the entire 36-month term.
This subscription will allow for seat increase, but not seat decrease.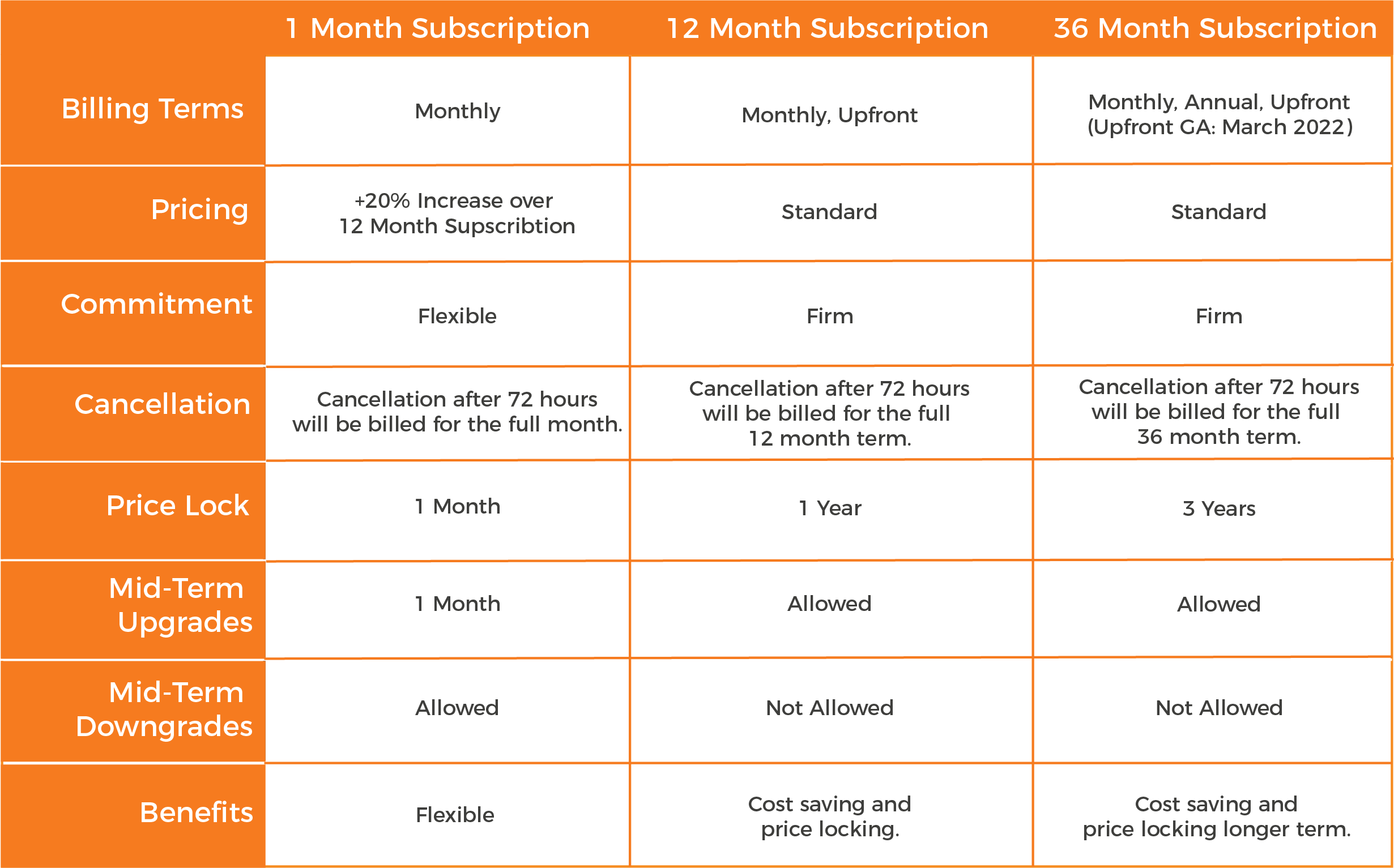 When is the Microsoft New Commerce Experience coming into effect?
Key dates:
January 2022 – General availability of NCE subscriptions
March 1st, 2022 – Microsoft price increase comes into effect
March 10th, 2022 – NCE mandated
June 20th, 2022 - Customers can renew via the existing legacy route
How to avoid hefty price increases
Unfortunately, there is no fits all solution. However, depending on your business, there are multiple ways to mitigate the impact of the NCE changes.
If your business still requires the flexibility of the monthly subscription but wants to avoid the potential 25% price increase across all licences. In that case, we recommend mixing and matching the 12-month subscription with the monthly subscription. For example, if your business currently has 150 users, but you are looking to reduce your staff numbers by 20 over the next 12-month period, you could purchase a 12-month subscription or 130 seats and buy a further 20 subscriptions on a monthly subscription. This allows you to decrease licences whilst keeping most licences at a locked cost.
An AZTech account manager will contact all clients to discuss possible options that will best suit your business over the coming weeks. They will work with you to create a tailor-made solution to best fit your business and work alongside your business goals.
Related content