Are you looking for ways to improve how your team collaborates, communicates, and learns? Microsoft Viva is the perfect solution!
With a combination of social capabilities, learning tools, employee engagement apps and analytics dashboards (accessible directly from Teams and SharePoint), this powerful employee experience platform allows users to easily access everything they need in one place.
Keep reading to find out more about what makes Viva such an invaluable tool for businesses and IT professionals. In this blog, Microsoft Viva explained with Viva modules (screenshot and videos), features and pricing for each.
What is Microsoft Viva?
Microsoft Viva is an enterprise platform that combines communication, engagement, knowledge, and well-being into one unified employee experience. The platform provides data-driven insights to ensure teams work effectively and efficiently on the right tasks, using collaboration tools and connected experiences.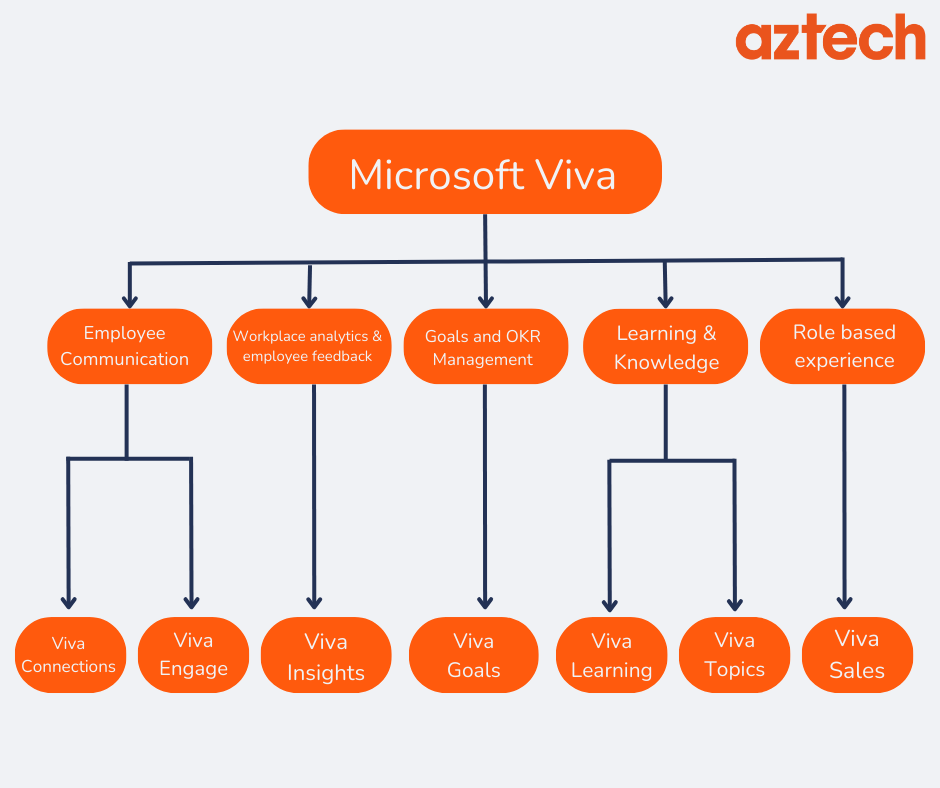 You can integrate Viva with 365, Teams and other Office apps to create a seamless experience and enable your teams to work together more effectively with the help of next-gen AI-driven insights.
In short, Viva is a one-stop shop for employee productivity, engagement, and well-being. It can help you to keep track of your team's progress and performance while providing insights into how to improve your organisation's systems and processes.
Source: Microsoft
What are the different modules of Microsoft Viva?
Viva is a highly anticipated platform that offers a unified employee experience for employee engagement, communication, and Microsoft 365 integration.
This powerful suite, Microsoft Viva, includes four main modules: Connections, Insights, Topics, and Learning.
Viva Connections allows colleagues to connect and team-build virtually. Viva Insights helps prioritise wellbeing and help with productivity levels. Viva Topics ensures you have a vast knowledge of all information, which is safe and protected. Lastly, Viva Learning provides a platform for learning and skills development.
These modules work to streamline the flow of communication and offers individualised support to employee experience in real-time.
Apart from these four, Microsoft Viva also includes Viva Goals, Viva Engage, Viva Sales, Viva Amplify, Viva Pulse and Viva Glint. Let's dive into each module in detail.
Microsoft Viva Connections
Microsoft Viva Connections is the latest addition to the Viva Suite, a new product line designed to enhance employee engagement and productivity.
This exciting tool allows employees to access company news, updates, and resources all in one place, streamlining communication and reducing the need for endless emails and notifications.
Imagine being able to easily access important HR information, company policies, and relevant team news at the click of a button.
With Viva Connections, employees can connect with their co-workers and receive important updates from their organisation, all in a user-friendly platform.
Source: Microsoft
The best part? This tool is already integrated into Microsoft Teams, making it a seamless addition to your company's workflow.
Viva Connections pillar helps teams effectively collaborate by providing them with access to colleagues and experts from anywhere in the world, helping them stay connected even if they can't be together.
Microsoft is also working on a version of Viva for small businesses, which is expected to launch later this year.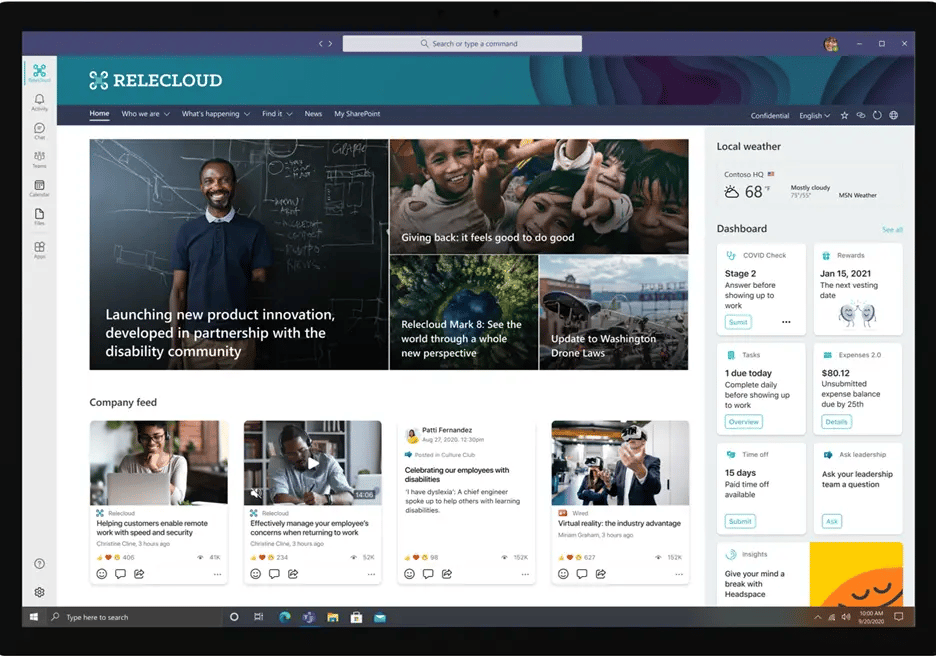 Microsoft Viva Connections features
Viva Connections offers a variety of features, including:
Elevate your employee experience with Viva Connections by customising it with your organisation's name, logo, and colours. This ensures a seamless and personalised touch from start to finish.

Boost high-priority content to the top of employees' feeds based on conditions, like a certain number of impressions or specific dates. This ensures better visibility and engagement with important information.

Personalised destination designed to keep your employees in the flow of work. You'll find a wealth of useful company resources and actionable tasks, all conveniently located in one central place.

Easily deploy and manage Viva Connections right from the Microsoft Teams admin console, without the hassle of pushing extra apps to your employees' devices.

Stay connected and simplify communication with a personalised view of your news feed. Explore news and join conversations from across your organisation, all in one place.

Discover and enhance Viva Connections with an array of integrations from our trusted partner ecosystem.

Viva Connections ensure that the most relevant content reaches the right audiences by sorting it based on departments, regions, job roles, and other criteria.

Get your employee experience off to a great start by providing them with the latest news and community updates they care about, along with convenient access to other Viva apps.
Upcoming Additional Features to Viva Connections
You will discover the power of Microsoft 365 with Viva Connections! Access a wealth of targeted and relevant content, including SharePoint News, Viva Engage communities, Microsoft Stream videos, and more. All conveniently surfaced in your personalised Viva Connections feed.
Get notified on your mobile device whenever there's important news, a mention, or a like or comment on your published news.
You can easily set up the Viva Connections experience directly from the Microsoft 365 admin centre, along with your other Microsoft investments.
How much does Viva Connections cost?
Great news! Viva Connections is completely free for all Microsoft 365 customers. As part of your existing Microsoft 365 and SharePoint Online license, you'll have access to Viva Connections without any extra charges. So, if you're already using SharePoint Online, you can start exploring and enjoying Viva Connections right away. Exciting, isn't it?
Microsoft Viva Insights
Microsoft Viva Insights is an innovative tool that organisations can use to optimise their employee experiences. This platform, designed with a user-friendly interface, provides valuable insights on how employees spend their time and what drives the most engagement in the workplace.
By analysing data from Office 365 and Microsoft Teams, Viva Insights can offer personalised recommendations for well-being and productivity improvement.
Source: Microsoft
With this helpful tool, businesses can nurture a healthy workplace culture and enhance their employees' engagement and satisfaction levels.
Overall, Viva Insights has the potential to transform the way businesses operate and manage their workforce, promoting a more agile and adaptable environment for everyone involved.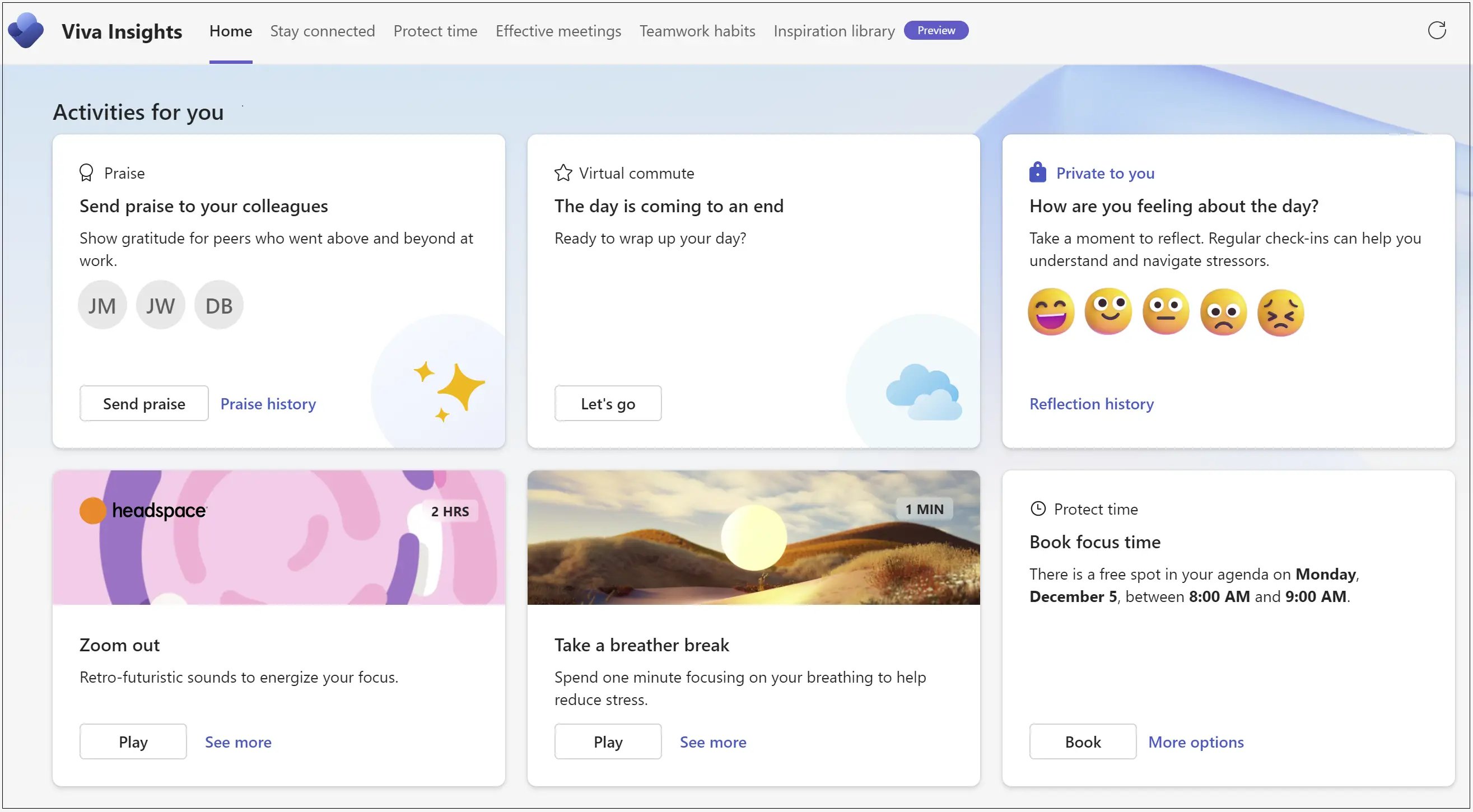 Microsoft Viva Insights features
Viva Insights features include:
Discover personal insights with the Viva Insights app, available on Teams and web apps.
Receive personalised insights through digest emails from Microsoft Viva and stay connected with what matters most to you.
Discover personal insights with the Viva Insights add-in right in Outlook.
Unlock exceptional personal experiences with our premium features in Teams. Discover the power of meeting effectiveness surveys, sharing praise and trends, and enhancing focus with our focus mode.
Enhance collaboration by implementing plans for scheduled emails, effective meetings, recurring time booking, shared focus time, and designated no-meeting days. This will help foster a healthier and more productive work environment.
Unlock the power of manager insights to lead strong teams with confidence and a friendly approach.
Discover trends throughout your organisation with valuable insights from leaders.
Discover deep insights about your organisation using our library of prebuilt reports, custom analysis tools, and accelerators.
Upcoming Additional Features to Viva Insights
Gain a holistic understanding by analysing sentiment and behavioural data, empowering you with valuable insights.
How much does Viva Insights cost?
Included in Microsoft 365 and Office 365 plans for enterprise, Viva Insights offers valuable insights. For more advanced features, you can opt for Viva Insights at £3.30 per user/month excluding VAT. Additionally, the comprehensive Microsoft Viva Suite is available at £7.40 per user/month excluding VAT.
Microsoft Viva Topics
Microsoft Viva Topics is a technology is designed to enhance employee productivity and knowledge management.
With Viva Topics, employees can easily discover, organise, and share relevant content within their company's network.
This AI-powered tool automatically curates topics based on the content available in your organisation and provides relevant information to employees in real-time.
Source: Microsoft
Viva Topics not only boosts productivity but also enhances employee experience by enabling remote teams to collaborate efficiently by sharing valuable information with one another.
By using this innovative tool, organisations can ensure smarter and faster decision-making, which ultimately leads to successful business outcomes.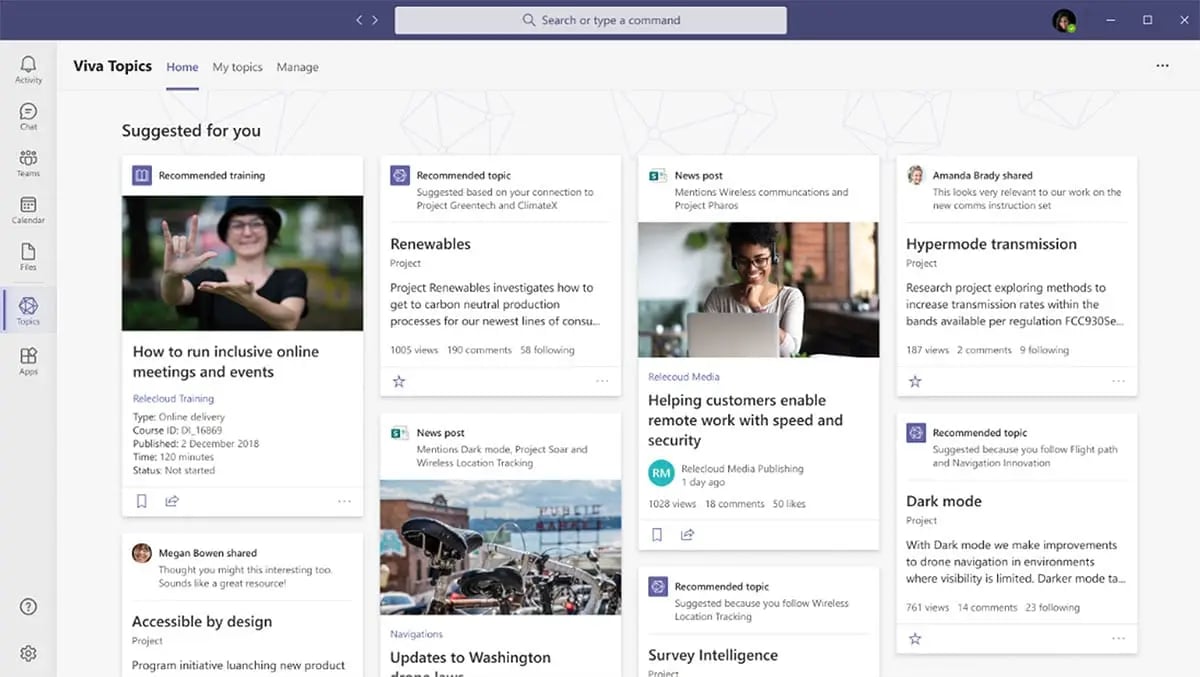 Microsoft Viva Topics features
Viva Topics uses the power of artificial intelligence to help you surface relevant content from across Microsoft 365, including SharePoint, OneDrive, Yammer, and more.
Viva Topics also includes a set of tools to help you manage your topics, including the ability to create and edit topics, assign owners, and track activity.
Microsoft Graph Connectors provide an intelligent solution to connect and consolidate information, ensuring a consistent and seamless search experience across your entire organisation.
Discover and connect with experts from various departments within the organisation to leverage their knowledge and insights effectively.
Explore various topics, discover subject matter experts, and access detailed documentation through our comprehensive topic centre, interactive cards, and informative pages.
Unlock the power of Viva Topics across various Microsoft 365 apps including SharePoint, Teams, Outlook, Viva Engage, and Microsoft Search. Discover endless possibilities to enhance collaboration, streamline workflows, and boost productivity.
Utilise the power of inquiry to seek answers, whether they already exist or require routing to knowledgeable individuals.
How much does Viva Topics cost?
You can discover the power of Viva Topics at an affordable rate of £3.30 per user per month excluding VAT charges.
Microsoft Viva Learning
Viva Learning is designed to revolutionise the way organisations manage their training programs.
Designed to integrate seamlessly with existing Microsoft tools, Viva Learning offers a range of features aimed at enhancing employee engagement and knowledge retention.
With the ability to curate and recommend personalised learning content, employees can be confident they are receiving the information they need to excel in their roles.
Source: Microsoft
Whether your organisation is large or small, the innovative features of Learning make it a must-have tool for any company looking to improve its learning and development programs.
Viva Learning is a new employee learning platform that includes features such as a personalised learning feed, the ability to follow experts and topics, and integration with Microsoft Teams.
Additionally, it includes features such as a personalised learning feed, the ability to follow experts and topics, and integration with Microsoft Teams.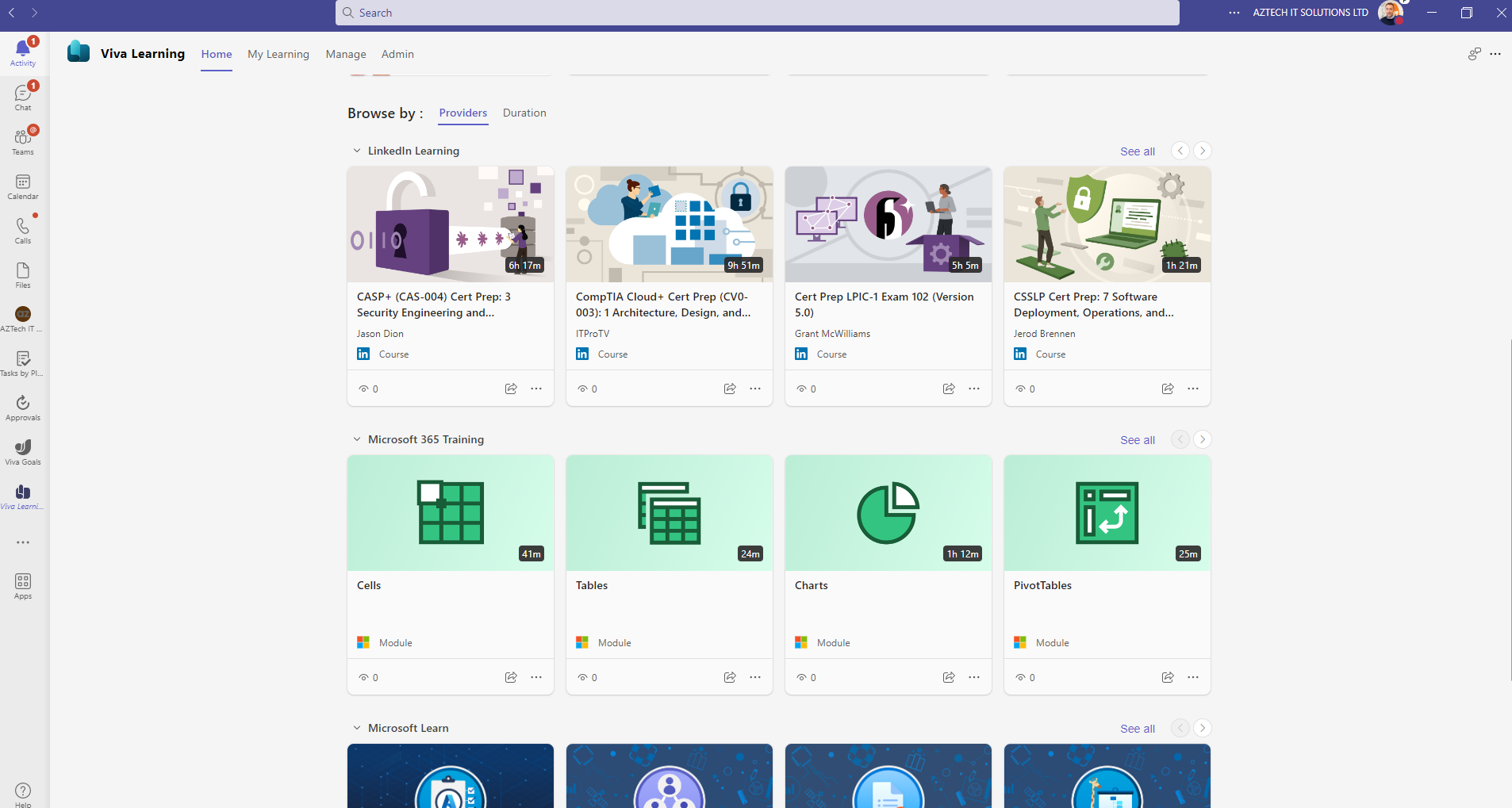 Microsoft Viva Learning Features
Learn and access Viva Learning seamlessly within Microsoft Teams for a more interactive and enriching experience.
Gain access to a comprehensive collection of training resources, including the full Microsoft Learn platform, Microsoft 365 Training libraries, and an array of 125 LinkedIn Learning courses.
Discover, exchange, and engage in discussions surrounding educational content.
You can enhance your Teams desktop app experience by creating Viva Learning tabs in Teams channels. This feature allows you to easily access and engage with educational content right within your Teams environment, making learning more convenient and engaging.
Integrate organisation-generated learning content hosted in SharePoint with Learning to enhance accessibility and engagement.
It offers content recommendations and tracks completed tasks, giving you valuable insights into progress and completion.
You can utilise the feature to recommend content and easily track completion progress for enhanced user experience and improved engagement.
You can partner with content providers to enhance integration capabilities.
Learning management systems can be seamlessly integrated, making it easier for educators and learners to collaborate and access educational resources.
Discover relevant learning content across Bing.com, Microsoft365.com, and SharePoint.com through Microsoft Search.
To enhance your learning experience, consider adding the content to your calendar with suggested time slots. This will help you stay organised and make the most of your study sessions.
Explore our curated learning paths and collections for an engaging and enriching educational experience.
Receive comprehensive SharePoint integration support for managing external linked objects.
How much does Microsoft Viva Learning cost?
Viva Learning offers an empowering solution for employee growth and development. For just £3.30 per user per month excluding VAT charges, employees can prioritise their professional development and reap the benefits.
Microsoft Viva Engage
Microsoft Viva Engage is the latest addition to Microsoft's suite of employee experience platforms. This platform is designed to help companies engage and communicate with their employees, helping them stay informed and connected.
With Viva Engage, employees can easily share knowledge, provide feedback, and connect with colleagues, no matter where they are in the world. This platform's main goal is to facilitate a collaborative and communicative workplace environment.
Additionally, Engage can be tailored to meet the specific needs and preferences of any organisation, making it a versatile solution for companies of all sizes and industries.
Source: Microsoft
Viva Engage allows you to create a custom URL for your company that employees can use to access Engage features. Also, it offers a variety of features that can help employees stay connected and engaged with your company, including news feeds, discussion forums, and polls.
Furthermore, it also offers integration with Microsoft Teams, which allows employees to access Engage features directly from within Teams.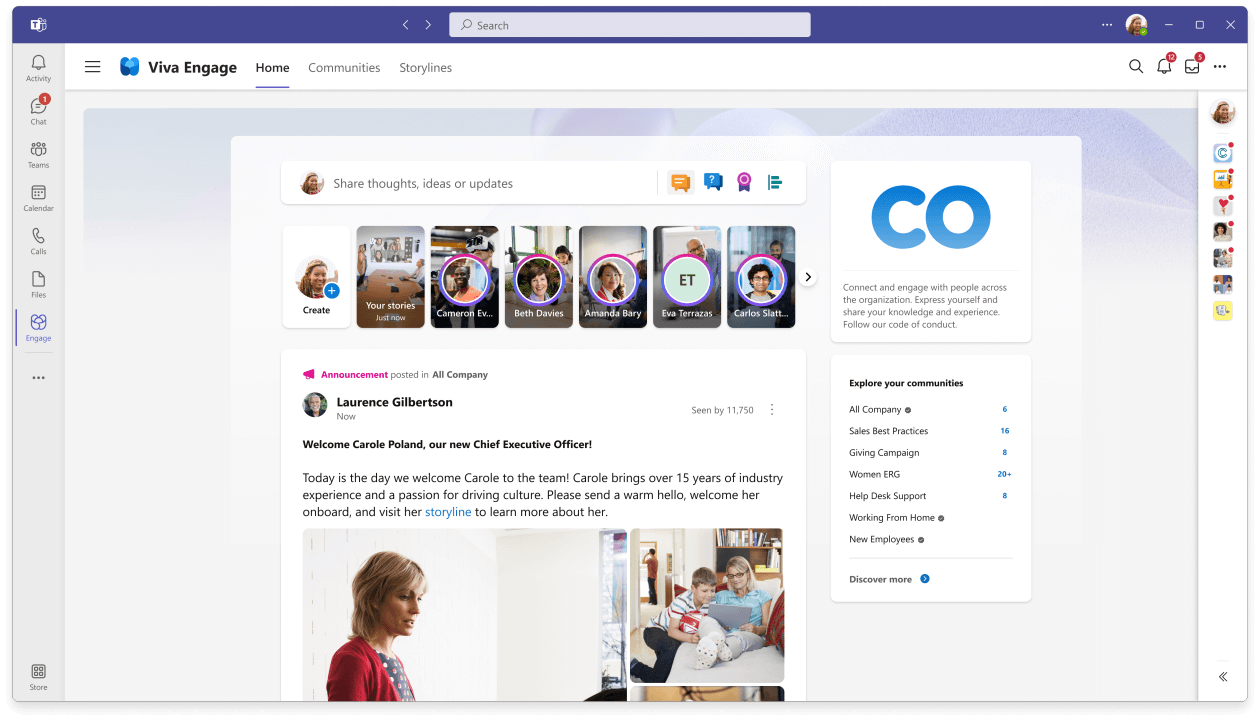 Microsoft Viva Engage Features
You can enhances employee connections and foster collaboration within your organisation by leveraging Viva Engage, a Microsoft Teams app powered by Yammer. This innovative tool enables the creation of employee communities and facilitates meaningful conversations, ensuring effective communication and teamwork.
Developing authentic connections with colleagues can greatly enhance your experience in the workplace. Cultivating meaningful relationships at work not only fosters a sense of belonging, but also promotes collaboration, boosts morale, and increases productivity.
Create an environment where employees can connect, freely express themselves, and find a sense of belonging.
Introduce a fresh and engaging Q&A-style event that fosters active participation and encourages open conversations.
Viva Engage Features Included
With announcements and notifications across web and mobile apps, stay connected and engaged no matter where you are.
To foster effective communication within teams and departments, our platform offers several features. You can join discussions, @mention coworkers, pin conversations, and build engaging dialogues across various channels.
Discover an engaging way to create, upload, and share stories. Stay connected with leaders and coworkers using familiar social tools and follow their inspiring journeys.
Organize townhalls and virtual events that foster unity between leaders and employees. These events should incorporate engaging elements like video presentations, interactive Q&A sessions, and purposeful conversations to ensure meaningful and impactful discussions.
Utilise the power of crowdsourcing solutions by facilitating employee learning through the posting and pinning of questions, upvoting of replies, and marking of the best answers. This interactive approach encourages active participation and fosters an engaging learning environment.
Gain comprehensive insights into each community, event, and conversation to effectively measure activity, gauge engagement, and promptly take necessary actions.
Additional Viva Engage features (premium)
These features are exclusively available to subscribers of the Microsoft Viva suite.
Discover and engage in activities led by experts. Take surveys, join discussions through hashtag campaigns and Ask Me Anything sessions (AMAs), and connect with new leaders throughout the organisation.
Discover solutions through the powerful combination of semantic search and crowdsourced responses. Leverage the expertise of the crowd, gather answers, and effectively capture and preserve knowledge.
Amplify top-of-mind topics for leaders and employees by publishing storyline posts and stories on behalf of another user. This enables a wider reach and engages the audience more effectively.
Easily create and manage organisation-wide campaigns with dedicated campaign pages. These pages aggregate posts from across your network and present them in a unified view. Gain valuable insights through analytics to set goals and enhance your reach.
How much does Microsoft Viva Engage cost?
The Microsoft Viva suite in Microsoft Teams includes premium features called Viva Engage. These features enhance community and conversation experiences offered in Microsoft 365 and Office 365 plans specifically designed for enterprise and frontline workers.
Microsoft Viva Goals
Microsoft Viva Goals is designed to help organisations improve their employee engagement and performance.
By setting up personalised goals and tracking progress in real-time, employees can actively work towards improving their skills and advancing their careers.
Viva Goals also enables managers to monitor progress and provide feedback, ensuring that everyone is aligned with the organisation's overarching goals.
Source: Microsoft
With Microsoft Viva Goals, organisations have an innovative way to better support their employees and drive success.
Viva Goals helps employees to set, track, and achieve their goals, and provides managers with visibility into employee goal progress. Viva Goals features include goal templates, goal coaching, and goal tracking.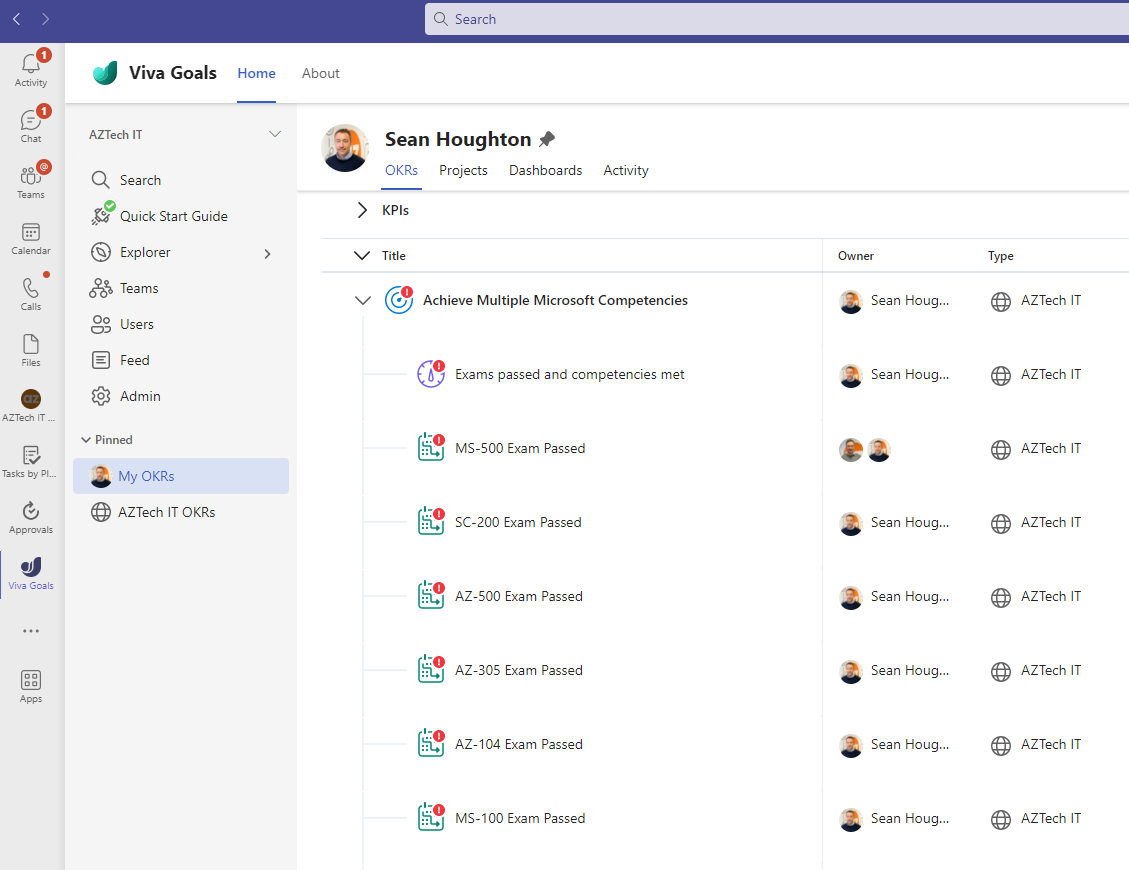 Microsoft Viva Goals Features
Easily create, manage, align, and customise workflows for objectives and key results (OKR) using templates and automated check-ins. Streamline your OKR processes and maximise your team's productivity.
Enhance your business rhythms by leveraging OKRs. Unlock the power of shared dashboards and gain valuable insights to drive success.
The Viva Goals app in Teams and Azure DevOps allows you to seamlessly integrate goals into your everyday work. Additionally, you can leverage the messaging extension in Teams chat to stay connected and engaged.
Easily view and automatically update your OKRs and projects right within the project management and data management tools that you are already using.
Experience enterprise-scale and security with our single sign-on (SSO) capabilities, robust data encryption, industry-leading privacy measures, and advanced permission controls. Safeguard your valuable data and access it with confidence.
Unlock the power of advanced OKR configurations by leveraging customisable weights and scoring guidance, enabling you to drive performance and achieve your goals more effectively.
How much does Microsoft Viva Goals cost?
Microsoft Viva Goals sets goals, aligns teams, and drives results to ensure a thriving business for just £4.90 per user per month excluding VAT charges.
Microsoft Viva Sales
Microsoft has recently launched an exciting new product called Viva Sales. This technology is designed to revolutionize the way businesses sell their products and services.
Viva Sales allows sales teams to be more efficient and productive by providing them with real-time insights and personalised coaching.
With this tool, sales leaders can easily track their team's progress and identify areas for improvement.
Source: Microsoft
Viva Sales also enables managers to provide timely feedback and coaching to their sales representatives, which can lead to better customer engagement and increased revenue.
In summary, Viva Sales is an innovative solution that can help businesses achieve their sales goals more effectively and efficiently.
Introducing a seller experience application that leverages the power of Microsoft 365 and Microsoft Teams.
This innovative solution automates data capture into any CRM system, eliminating tedious manual entry. By streamlining processes, sellers can devote valuable time to their primary focus: selling.
Microsoft Viva Sales is a new sales productivity tool that helps sales teams manage their deals, contacts, and content in one place.
Viva Sales includes features such as a deal tracker, contact management, and content library. Viva Sales is available as a standalone app or as part of the Microsoft 365 suite of productivity tools.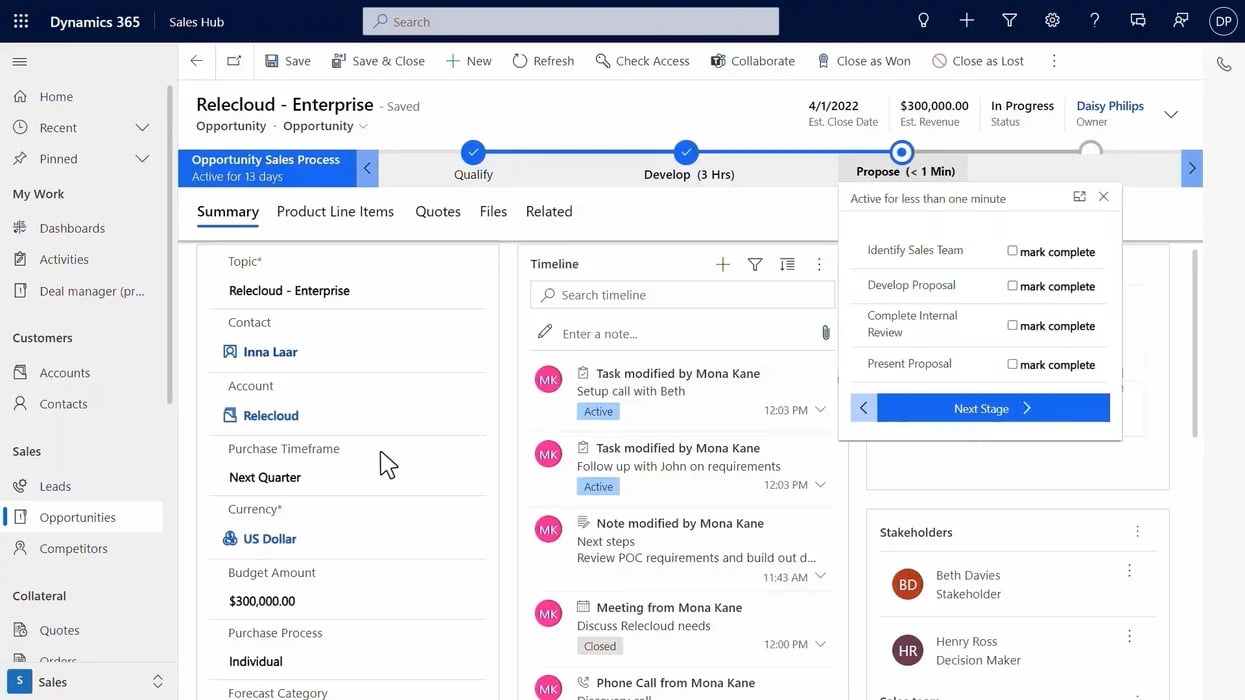 Microsoft Viva Sales Features
AI-generated meeting summaries - an innovative solution for enhancing productivity and collaboration in the workplace.
AI-generated emails: the future of efficient and personalised communication.
Conversational intelligence refers to the ability to comprehend and engage in conversations effectively.
Integrating Salesforce CRM
Integrate Dynamics 365 Sales for seamless business operations and enhanced customer engagement.
One way to enhance email engagement is by effectively identifying customers.
Insights for Teams Meetings: Enhancing structure and engagement.
Collaborate and share business data with ease, enhancing productivity and fostering teamwork.
How much does Microsoft Viva Goals cost?
Viva Sales leverages the advanced capabilities of generative AI to provide automatic content creation and meeting summaries within Microsoft 365 applications, resulting in heightened productivity for sellers. Experience the benefits of Viva Sales at just £32.90 per user per month excluding VAT charges.
Microsoft Viva Amplify
Microsoft Viva Amplify is a new offering from Microsoft that has businesses and organisations buzzing with excitement.
It is an all-encompassing platform that allows companies to improve employee engagement, streamline operations, and optimize their workforce.
With the integration of Teams, SharePoint, Yammer, and other Microsoft 365 apps, Viva Amplify provides a seamless experience for employees to access all the resources and tools they need to excel in their roles.
Source: Dapt
This digital platform enables organisations to personalise learning and development opportunities based on each employee's unique needs, which ultimately helps to boost employee satisfaction and retention rates.
By leveraging Viva Amplify, businesses can transform the way they approach employee engagement and create a more productive and engaged workforce.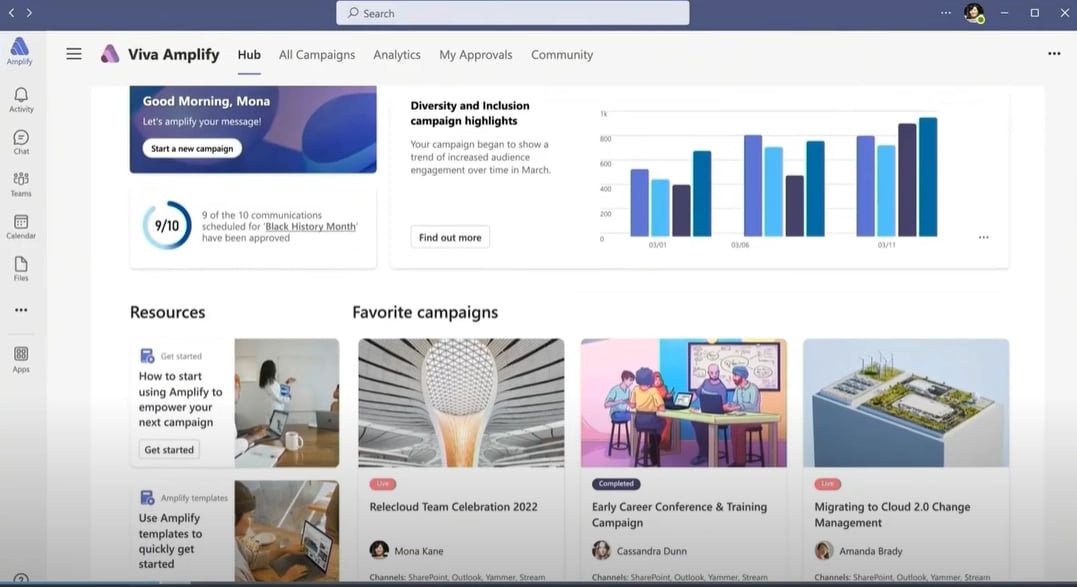 Note: Viva Amplify is currently in private preview, exclusively accessible to private preview customers. It provides an opportunity to experience exclusive features and benefits before the official release.
Microsoft Viva Amplify Features
Viva Amplify allows users to create and share content with their colleagues.
Viva Amplify makes it easy to find and share relevant information with your team, and includes features such as commenting and liking, which make it easy to have discussions around the content.
Viva Amplify is available now for all Office 365 subscribers.
Viva Amplify is a new employee communications tool from Microsoft that helps to improve communication and collaboration within an organisation.
Viva Amplify includes a variety of features that are designed to help employees stay connected and informed, including news feeds, blogs, discussion forums, and document sharing.
Viva Amplify is available as a standalone application or as an add-on to Microsoft Teams.
Microsoft Viva Pulse
Microsoft Viva Pulse is an exciting new tool in the world of employee engagement that aims to bring the pulse of your organisation to life.
With a focus on wellness and productivity, Viva Pulse allows organisations to measure employee sentiment and gain insights into how they can improve employee experience.
Source: 2toLead
Utilising a variety of surveys, polls, and other tools, Viva Pulse provides real-time analytics and reports that allow employers to identify trends and areas for improvement.
By encouraging feedback and fostering an open dialogue, Viva Pulse helps to ensure that employees feel heard and valued, leading to increased productivity and satisfaction.
With Viva Pulse, organisations can empower their workforce to thrive and reach their full potential.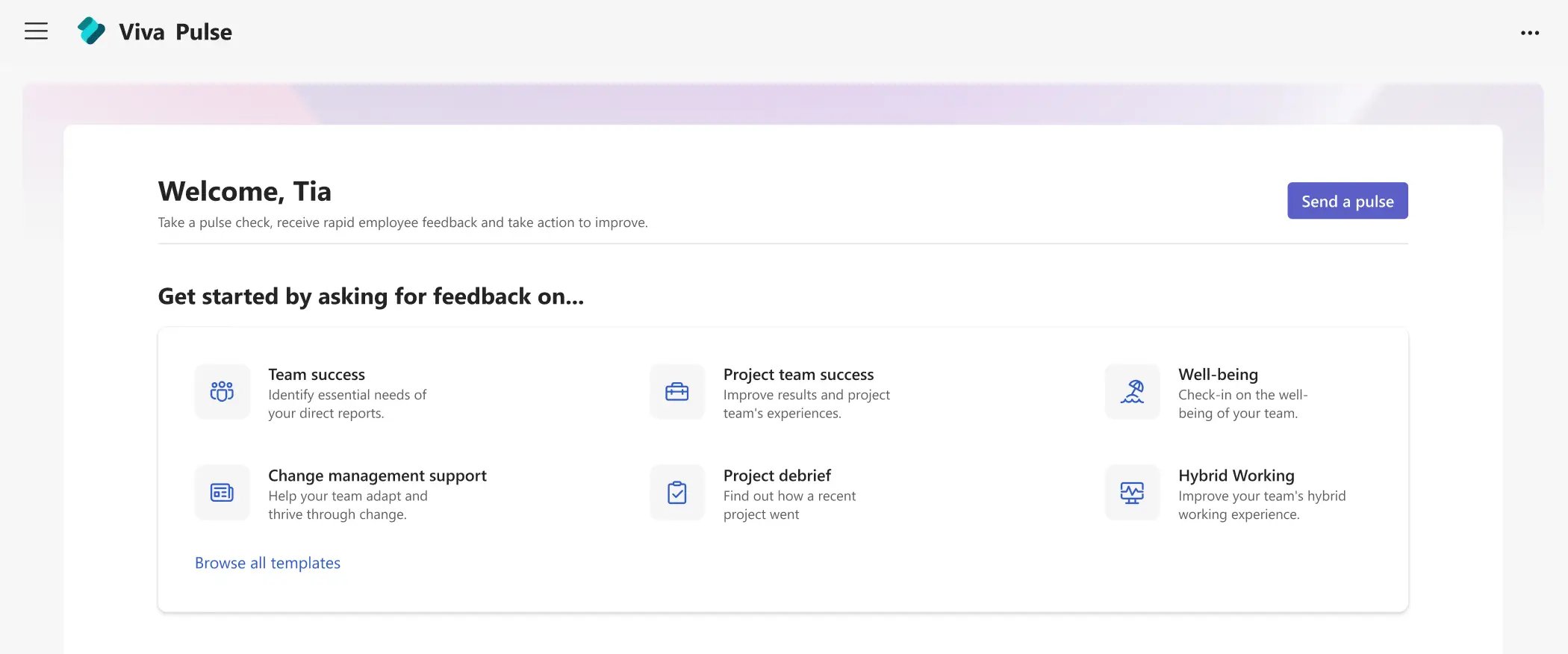 Microsoft Viva Pulse Features
In the Microsoft 365 environment, users can have one or more roles within Viva Pulse. These roles include:
Feedback author: This role allows users to create and submit feedback.
Feedback provider: Users in this role can provide input and feedback on various topics.
Viva Pulse admin: This role entails administrative tasks and responsibilities within the Viva Pulse platform.
By assigning these roles, Viva Pulse enables effective collaboration and engagement among users in the Microsoft 365 environment.
Microsoft Viva Glint
Microsoft Viva Glint is a powerful employee engagement platform that helps organisations measure and improve their employees' overall performance and satisfaction.
With its advanced analytics and real-time feedback capabilities, Viva Glint enables managers to better understand their workforce and identify areas for improvement.
Source: Microsoft
This innovative platform also provides employees with a streamlined way to communicate their needs and concerns, giving them a voice in the workplace.
By prioritising employee engagement and feedback, Viva Glint helps organisations create a more positive work environment and ultimately drive success.
Whether you're looking to boost morale, increase retention, or improve productivity, Viva Glint has the tools and insights you need to succeed.
Viva and Glint work together to empower organisations in capturing valuable employee feedback.
With their capabilities to translate insights into actionable steps, managers and teams can effectively measure and enhance the overall employee experience.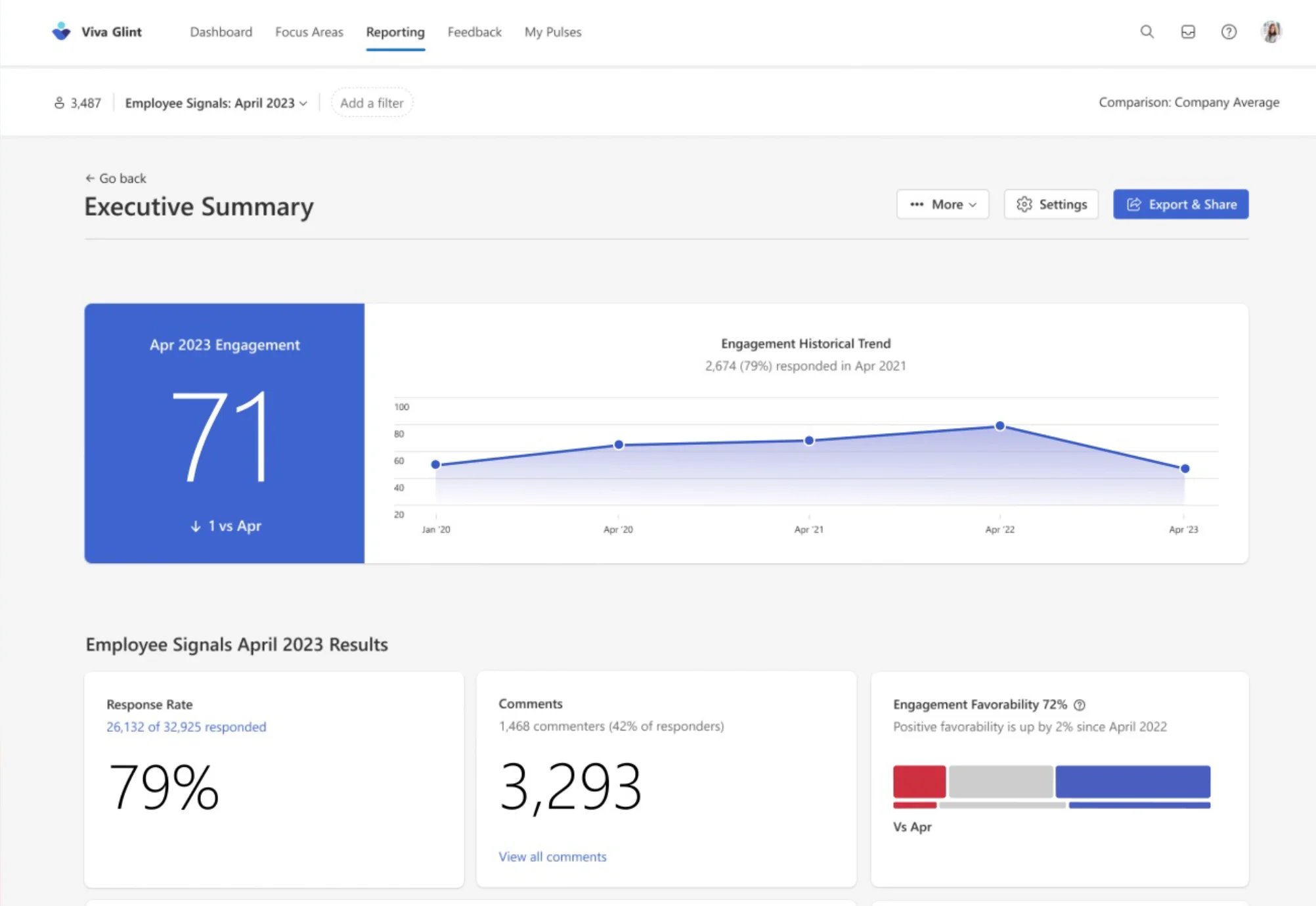 Microsoft Viva Glint Features
Automated programs simplify the process of gathering feedback, providing your team with a continuous voice, and facilitating a deeper understanding of your organisation.
Discover tools that allow you to stay in tune with your organisation's dynamics and take proactive steps towards boosting employee engagement, fostering stronger teamwork, and enhancing overall business performance.
Gain real-time insights on employee sentiment through comprehensive survey programs covering engagement, lifecycle, manager and team effectiveness, culture, diversity and inclusion, and development.
Unlock the power of the latest workplace happiness insights. Viva Glint proprietary AI leverages HRTM and predictive intelligence to gather and evaluate feedback, identifying and addressing both opportunities and concerns.
Managers can be empowered to better understand and address their team's needs by inviting their employees into the conversation. This collaborative approach helps identify solutions and promotes learning through integrated LinkedIn Learning content in the Glint platform.
How much does Microsoft Viva Glint cost?
Get access to Microsoft Viva Suite with Glint, a powerful combination for just £12.30 per user per month excluding VAT charges.
5 Tips for success with Microsoft Viva
Here are five top tips for getting the most out of the Microsoft Viva Suite.
Tip #1. Establish and communicate clear goals
Using Viva Goals to easily track, monitor, and measure employee objectives keeps teams focused on success and aligned with their organisation's overall mission.
Tip#2. Utilise analytics
The platform provides actionable insights which can be used to identify areas of improvement, address issues quickly, and enable more efficient decision-making.
Tip#3. Automate workflows
Using Viva Sales automated workflows can help ensure that all tasks are completed on time without sacrificing accuracy or quality.
Tip#4. Prioritise outreach efforts
Lead scoring capabilities allow teams to identify high-priority leads and prioritise outreach efforts for optimal results.
Tip#5. Provide regular feedback
Regular feedback helps keep employees motivated, engaged, and productive, so make sure you take full advantage of the tools Viva offers for providing feedback in real-time.
How can I set up Microsoft Viva?
Viva provides organisations with the tools to build an engaged, productive and efficient workforce. Working with a digital transformation partner such as aztech can help organisations make the most of their new platform and start using its features right away.
Aztech has vast experience in integrating Viva components into existing systems and can provide support in customising the platform to suit your organisation's needs.
The team at aztech can also assist you in developing strategies for employee success, setting up training programs, and leveraging data insights to improve employee performance.
We can also guide you through the implementation process to ensure that each step is completed quickly and successfully. With our expertise in both technical implementation as well as human behaviour, aztech provides organisations with the resources they need for the successful adoption of Viva components.
At aztech, we use both the EOS and OKR methodologies for setting and tracking our goals at the management and leadership team level, so implementing viva goals has been great for our business.
So if you want to get started, talk to us about our Viva workshop services.