Digital Transformation
Transform your business into a Modern Workplace
Utilising technology to transform your business
At AZTech IT we use Digital Transformation to align your people, processes and technology solutions with the vision and strategy of your organisation. We advise and assist with implementing solutions that improve business performance and make a positive difference in your organisation.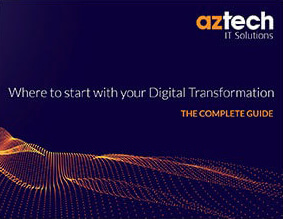 Where to start with your Digital Transformation:
The Complete Guide
Download our free eBook to help you to choose the right digital tools for your business.
See how our digital transformation solutions can help your organisation