Cyber Security Operations Centre (CSOC)
Actively monitoring your cyber security
We actively monitor, detect and respond to threats - keeping your data and networks secure
Focusing on the detection of suspicious activities
Detect, Analyse, Respond
Keeping your organisation secure has never been so vital - cybercriminals are finding more ways to infiltrate your business, and if you aren't monitoring for suspicious activity, your organisation is easier to breach.
Our Security Operations Centre will monitor and scan for suspicious activity across your systems, searching and identifying anything that may signify a security breach or compromised system.
Our SOC offers a hassle-free and cost-effective solution for organisations that may not have the resources to build their own in-house operation.
We monitor everything from endpoints, websites and apps, to networks, servers and databases. We're there to help ensure any possible security incidents are promptly and correctly identified.
Download our datasheet to find out more.
Keeping Your Data Protected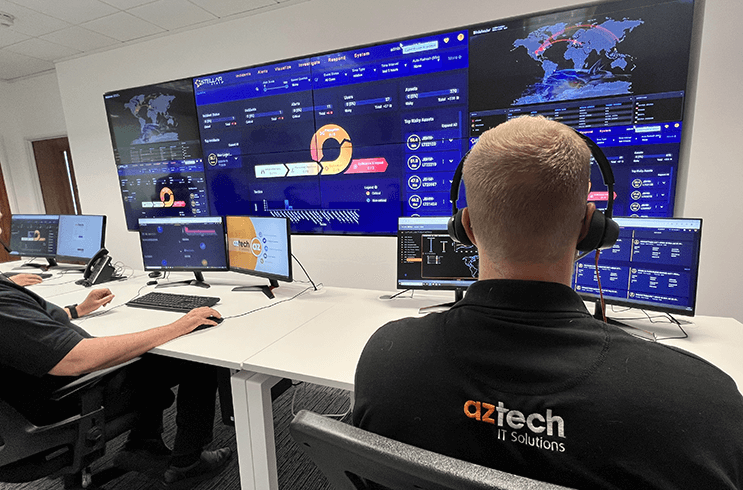 New vulnerabilities are identified and exploited by cybercriminals every day, which is why your systems need to be monitored to ensure your data stays protected and anomalies are found and stopped.
We have different packages available, which can include:
Dark Web Monitoring
Passwords and personal data are being sold on the Dark Web for as little as £2 –Dark Web Monitoring searches the Dark Web for your data so you can act before a breach happens. We monitor the dark web daily, scanning for your information, providing reports of any compromised data, including compromised passwords.
Compliance Management
We help you stay on top of your security, keeping your organisation compliant with security regulations governed by leading security standards such as ISO 27001, HIPAA and PCI. This not only helps safeguard your data, but also helps to prevent reputational damage and legal challenges from a data breach.
Log Management
We collect, maintain and regularly review the log of all your network activity and communications for your organisation. This data allows us to define what's normal for your network, allowing threats to be detected more easily.
Secure DNS (Web Filtering)
Secure DNS (Domain Name System) helps to protect your business while your users are online. It protects and blocks malware, phishing, spoofing, malicious sites and more –helping to keep your data safe.
Managed Detection & Response (MDR)
Managed Detection and Response from AZTech IT scans your endpoints for any type of abnormal activity and sends alerts to the security team.
This way any type of malware, whether it's hidden from malware signature scanners or easily detected, our SOC team will be alerted and begin investigating further, isolating and removing the issue, so you can continue business as usual.
Managed SIEM
Leveraging SIEM technology to collect, analyse and correlate information from network devices,
endpoint logs and threat intelligence feeds.
This information is used to identify security incidents, policy violations, fraudulent activity, and other threats when these activities are identified, our SOC quickly takes action to mitigate the attack while providing advanced mediation documentation and recommended next steps.
Threat Response
If a threat is detected, we respond immediately by terminating harmful processes and preventing them from executing. This is to stop a breach from impacting your organisation, allowing business continuity.
Proactive Monitoring
We scan your network 24/7 to flag any anomalies or suspicious activities. This allows us to be notified immediately to any emerging threats, stopping them before any incidents occur.
Get a Free IT Security Assessment!
Request a FREE IT Security Health Check to get a high-level overview of your current systems and risks!