"Shadow IT" is an umbrella term used to describe any type of IT system, software, hardware, application, or service that isn't known or managed by your IT department.
Over the past few years, the use of cloud-based applications and services has increased in popularity, thus making Shadow IT more of an issue. Shadow IT may help improve productivity and drive innovation, but it creates serious security risks to your business through data leaks, compliance violations, and more if not properly managed.
Cisco's research has shown that 80% of end users use software not cleared by IT, 83% of IT staff admit to using unsanctioned software or services, and only 8% of all enterprises know the scope of Shadow IT within their organisation.
Why do your users use Shadow IT?
The simple answer is, to work more efficiently. Your users know the tools of their trade, so they know which apps make their jobs easier and more efficient - your users don't download or use these apps with malicious intent, but rather to help streamline their roles, thus helping your organisation with growth and improved productivity.
What are the risks associated with Shadow IT?
Shadow IT takes your organisation's data outside of your control. If your users buy or use third-party solutions, you have no way of managing and securing that data, which can put it at risk.
Your departments don't know what software or cloud solutions aren't secure enough for your organisation. In addition to this, Shadow IT can waste money – often individual departments may purchase or licence software that your company already has, such as Microsoft licences.
Furthermore, data visibility can be nearly impossible when every department uses different software, but this can get easier for your IT department when it's managed properly.
How can you discover and manage Shadow IT?
The cloud helps increase flexibility for your users and IT, but it introduces new challenges and complexities for your business. Your users are now incredibly self-sufficient, they have an understanding of computer technologies, and know which apps and software can help their job roles be more efficient. Modern businesses now work across multiple devices, from desktops and laptops to handheld smart devices, but do you know how many cloud apps your users are using?
The average answer companies guess is typically 30 - 40 apps, but in actuality, it can be over 1000 - so, how can you discover and manage this to help prevent risk to business?
It's no longer enough to rely on your firewalls as your teams can access your data outside of your corporate network, you need to utilise tools such as Cloud App Security. You can discover and identify Shadow IT using Cloud Discovery within Cloud App Security - this finds the apps your users are using and allows you to explore the risks of the apps and configure policies so any new apps will be analysed for risk to business.
Cloud App Security assists with the process of managing app use in your business, once you've identified the behaviours and patterns in your organisation, you'll be able to create custom app tags to classify each app according to business status and more - these tags can be used for specific monitoring such as traffic to high-risk apps.
What are the benefits of Shadow IT?
Once you have Shadow IT managed, you can start to experience the benefits of Shadow IT.
We've already mentioned that your departments know which apps they need to help with productivity, efficiency, and flexibility - so, instead of them relying on the IT department to decide when a solution can be used, your teams can create their own solutions. When Shadow IT is properly managed, your IT team can provide the tools while controlling the data and user access, and your users can get on with their day-to-day without waiting for authorisation.
Shadow IT can help remove miscommunication as well as the obstacles/restrictions users typically feel from the IT department - your users can find the solutions themselves that will benefit their work without the back and forth between IT, there are fewer calls and demands to the IT department, and less time will be spent trying to find workarounds and loopholes to corporate policies.
Additionally, by embracing Shadow IT, your IT team will no longer burden themselves with user requests for new solutions - your other departments will have the power to choose pre-approved solutions or find, build, and create the right tools themselves.
Shadow IT is no longer a "what if" within your organisation - take back control with Cloud App Security. Get visibility, data security, advanced threat protection, and compliance for cloud usage. You'll be able to help prevent targeted phishing, impersonation, and account takeover in your cloud environments.
Cloud App Security allows you to investigate your cloud apps, identify breaches, and security gaps by analysing real-time and past events. In addition, you can deep-dive into risky apps, specific users, and files in your network - generate custom reports, alerts and approve applications, enforce data loss prevention, control permission, and sharing of confidential data.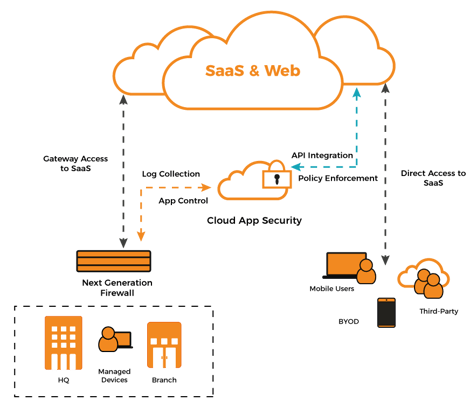 ---
Want to discuss how you can take back control? Get in touch by calling us on 03300 949 420, or use the button below to request a consultation with one of our experts today.