Microsoft Teams is a great asset for collaborative working, but there are a few handy features you may not know about that can improve your work flow.
Here are our top 10 tips:
1. Favourite Teams
If you're a member in a lot of Teams, you can favourite the most important ones. They will pin to the top of the side panel in your favourites list for quick and easy access.
Simply click the '…' next to the name of the Team and select favourite.
2. Stay notified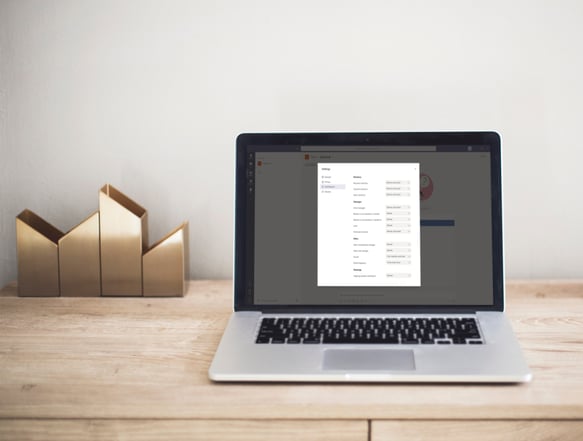 Notifications help you keep up-to-date with your Teams, whether it's mentions or replies to your conversations.
You can change your settings by clicking on your picture.
Go to settings – notifications and then change the type of notification you receive for mentions, messages and more.
You can also check your Activity tab – this notifies you when you are '@' mentioned or someone replies to your thread. The number on the activity bell shows how many alerts you have waiting.
You'll find the Activity bell icon at the top of your navigation panel on the left.
3. Tag people and get your message seen
If you need a specific person to see your message or respond to you, just type '@' followed by their name or email address.
They'll be notified in their inbox and activity feed about the conversation.
4. Collaborate with ease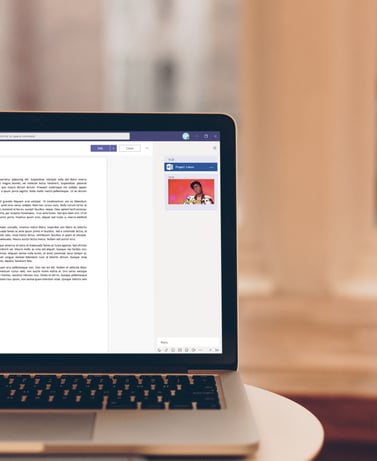 Work on documents together and receive live feedback with the chat feature.
If you create or upload a document in the 'files' section in Teams, everyone can open the file and work on the document simultaneously.
Use the side chat feature to discuss your project, but don't worry, the chat will be in your Team when you click out of the file.
5. Customise your Team's tabs
Turn your favourite apps and files into tabs at the top of the channel.
Just click + on the menu at the top of your Team channel to add one or more custom tabs.
6. Use Microsoft Teams on the go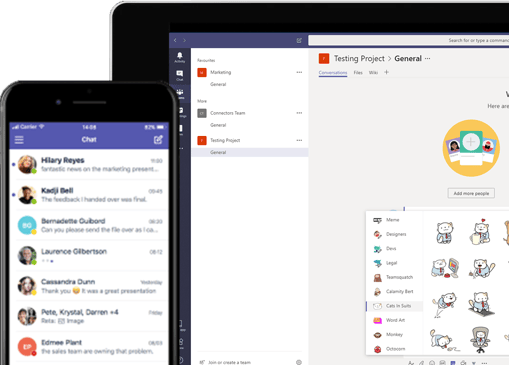 Whether you're working from home, at the office or on the go – you can still access your Teams with the mobile app.
You'll be able to participate in conversations, attend meetings and access your files, channels and more; available on iOS, Android, and Windows Phone.
You can even screen share from your phone or tablet.
7. Guest members
An amazing part of MS Teams is that you can invite people to the meeting, even if they don't have Microsoft Teams.
This is a fantastic feature if you usually work with people outside of your organisation as you can invite and add anyone if they have an email address.
Users with No Microsoft Account
If the person you're inviting doesn't have a Microsoft account, they can still access the meeting. All they need is an email address and to connect via the web browser (https://teams.microsoft.com), by clicking the 'Join on Web' button:
This allows the person to attend the meeting and view others shared screens, but they won't be able to share their screen or use their camera.
Users with any Office 365 accounts
Users with an Office 365 account can attend as a guest user, instead of selecting 'join on web', they can select 'Open Microsoft Teams' and sign in with their MS account.
You can also add them to your Teams as a guest user.
8. Keyboard shortcuts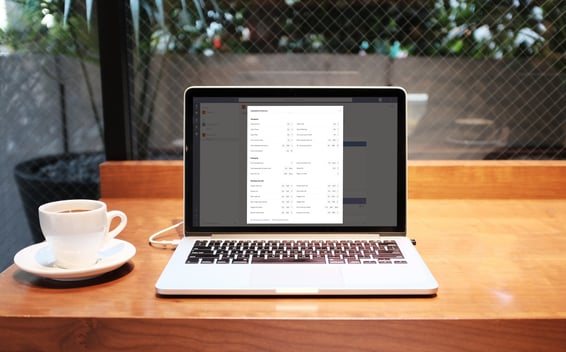 To access Teams' keyboard shortcuts, use ALT + / or CTRL + .
Keyboard shortcuts are a great way to quickly get to the sections you want, especially if using a laptop or if you have difficulty using a mouse.
9. Save messages or bookmarks
You can easily save a message or save your last seen point in the conversation by clicking on the sash icon at the top of a message.
To access your saved messages, click on your profile picture and select saved from the drop-down menu, or search for your saved messages in the search/command bar with /saved.
10. Emojis, GIFs and stickers


GIFs are a fantastic way to add humour to your conversations
Emojis bring an informal, friendly approach to enhance your chat
Choose from a wide selection of memes and character stickers to express yourself
To add these to your chat, simply click on the GIF, smiley face or sticker icon at the bottom of your reply/conversation box and search for a GIF, emoji or sticker to reflect your response, such as 'great job' or 'high five'.
BONUS TIP
11. Manage your Team
You can manage and edit your Team settings, apps and members by accessing the drop down menu from the '…' next to your Team's name.
Go to ... - Manage Team - Settings to change the Member Permissions, Guest Permissions as well as allowing or blocking memes, GIFs and stickers.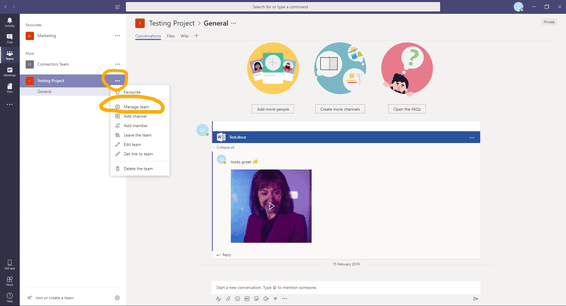 If you need any support with your Office 365 applications, please get in touch and we'll be happy to help.