Microsoft Office 365
Microsoft Office applications in an accessible from anywhere Cloud service
Microsoft Office applications in the Cloud
Office 365 brings together all the familiar Microsoft Office applications in an easy-to-use, accessible-from-anywhere Cloud service. It's an ideal first step on the path to Cloud computing.
Office 365 offers the familiar Microsoft Office collaboration and productivity tools but all delivered online. Everyone can work together easily with anywhere access to email, web conferencing, documents, and calendars. It includes business-class security and is backed by Microsoft.
Microsoft Office 365 is licensed on a flexible, per-user per-month subscription plan with predictable annual costs-enabling your business to scale its services when it makes sense.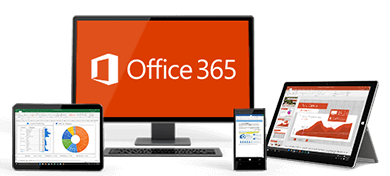 Office 365
accessible from anywhere, a Cloud implementation of familiar office applications
Office 365
enables easy, seamless collaboration, document and calendar sharing
Office 365
works on a simple, per-user-per-month subscription model
Office Applications
Always have the latest version of the Microsoft Office suite. Access Microsoft office on multiple devices both online and offline.
File Sharing
Easily share files across your organisation using One Drive and SharePoint Sites.
Hosted Email
Enterprise email in the cloud. 50GB mailbox per user that accommodate up to 25MB attachments.
Robust Security
Built-in enterprise grade security and continuous compliance solutions to ensure your data in the cloud remains secure.
Web Conferencing
Host online meetings and join meetings from almost any device anywhere with an Internet connection.
Array of Features
A multitude of features and new tools being added regularly to enhance your productivity.

Find out how outsourcing your IT needs can benefit your organisation.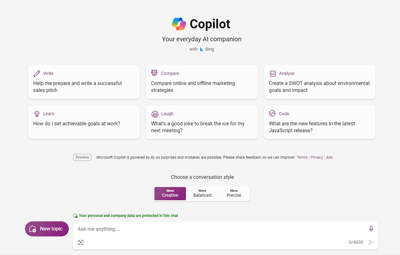 | December 6, 2023
Everything you should know about new Bing Chat for business. Microsoft announced the new Bing Chat for business to be available for users from 1st..
To see how to leverage the power of Office 365