Microsoft and Google both offer market-leading business productivity tools, however, understanding which platform is best for your business can be overwhelming. Both suites offer the user the following features:
Calendar management

Online storage and file management both at an individual and business level

Business email

Communication tools including instant messaging and video call

Productivity apps

The ability to create, and collaborate on documents/ spreadsheets/ presentations
Despite the similarities, there are considerable differences between the two suites. The main notable difference is how the software is hosted.
Google workspace is browser-centric, meaning all apps and features are located on your web browser. The web-based features for Google Workspace are identical to those offered to individual personal accounts, which include Google Docs, Google Sheets, Google Slides, Gmail etc. which are all hosted in your Google Drive which is cloud-based storage.
Contrastingly, Microsoft 365 primarily run desktop applications. These are apps we are all familiar with such as Microsoft Word, Excel, PowerPoint and Outlook. However, Microsoft 365 also offer web-based, online alternatives and cloud storage allowing users accessibility from remote locations through features such as SharePoint Online and OneDrive.
Feature comparison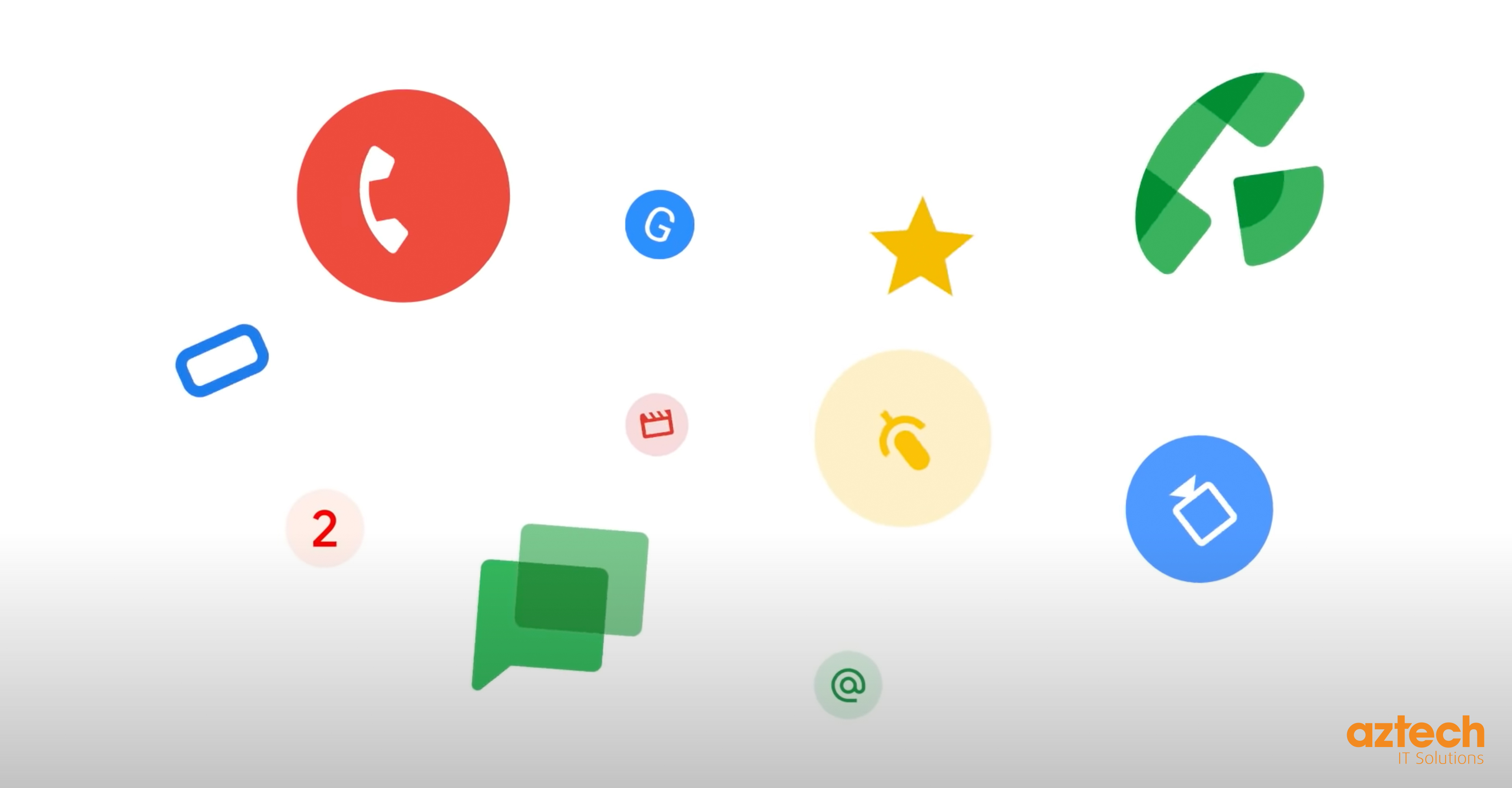 Communication
Both options include communication features such as email, instant messaging and video calling. Microsoft offers Outlook for email, which you can access via desktop or web browser. Outlook can also be integrated with your calendar and other Microsoft apps such as To Do. Also included is Microsoft Teams, which allows video calls for up to 300 people, individual and team chat functions as well as integration options with other apps such as Planner.
Google Workplace also offers a business email function – Gmail. Where Outlook can be accessed on desktop and online, Gmail does not come with a desktop app, however, you can connect your Gmail account to third-party operators such as Outlook, or Mail on Apple products.
Google also offers video calling capabilities with Google Chat, which is predominantly an instant messaging feature with video calling capabilities, and also Google Meet, which is used for video calling, however, offers a chat function within the call. You can have up to 100, 150 or 250 people in your video call depending on your business plan.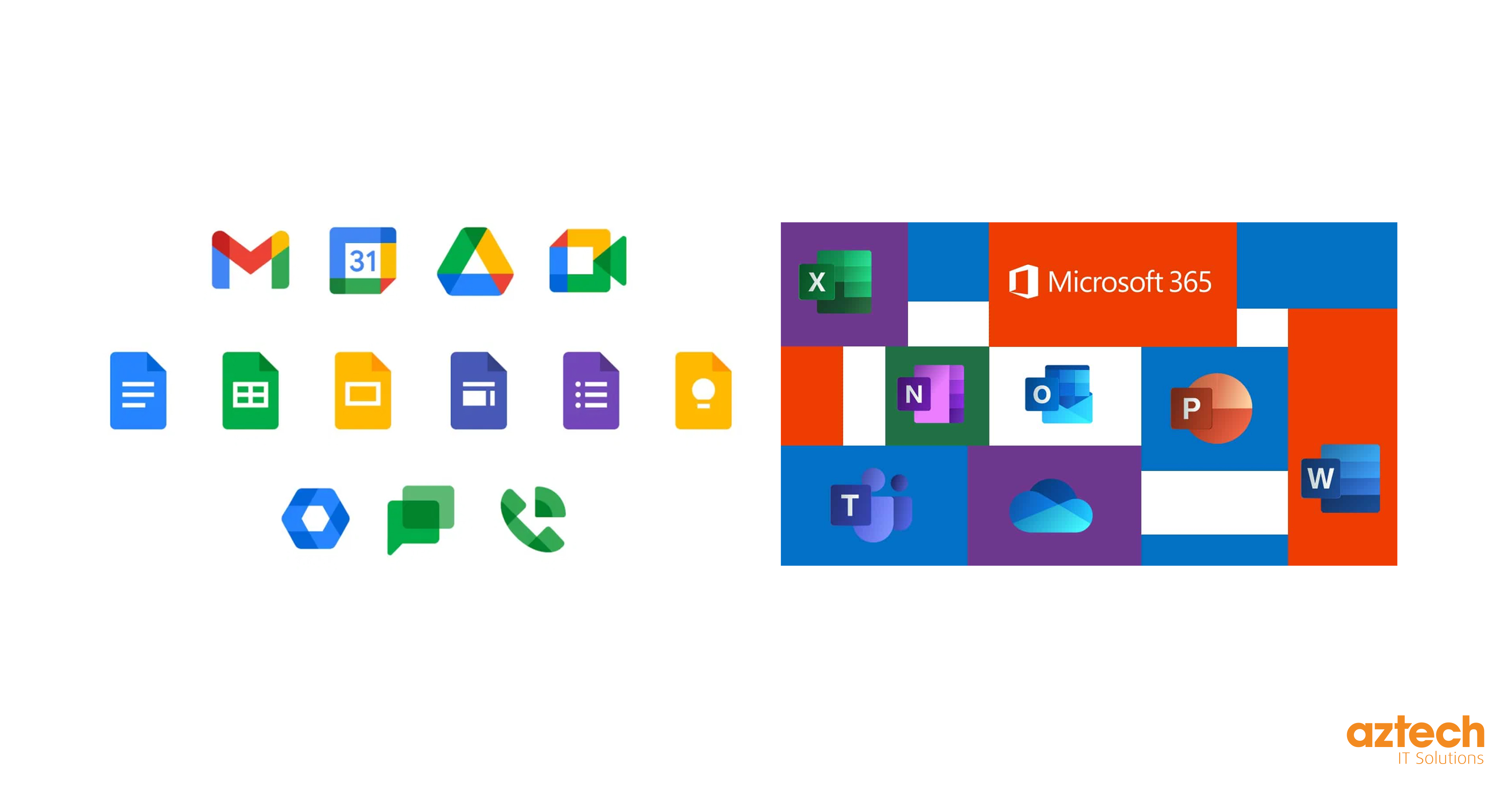 Documents
Both suites offer documents, spreadsheets, and presentations. Most will be familiar with Microsoft's Word, Excel and PowerPoint as these have been popular office software choices for many years. This software can be accessed via desktop; however, Microsoft now offers a web-based alternative. Both desktop and web-browser versions can be accessed via the cloud, and both allow for co-authoring, allowing multiple people to collaborate on documents simultaneously.
Google workspace offers comparable features, called Docs, Sheets and Slides. It has been noted that they are not as complex as Microsoft's versions, however, offer more than enough for the average everyday user, and are built in a more simplistic and user-friendly manner. Equally, to Microsoft, Google offers co-authoring capabilities allowing multiple people to edit a document at the same time. Similarly, to Gmail, Google Docs, Sheets and Slides are only accessible on a web browser, or apps for mobiles or tablets. However, you can access and edit documents offline, and sync the new edits the next time you are connected to the internet.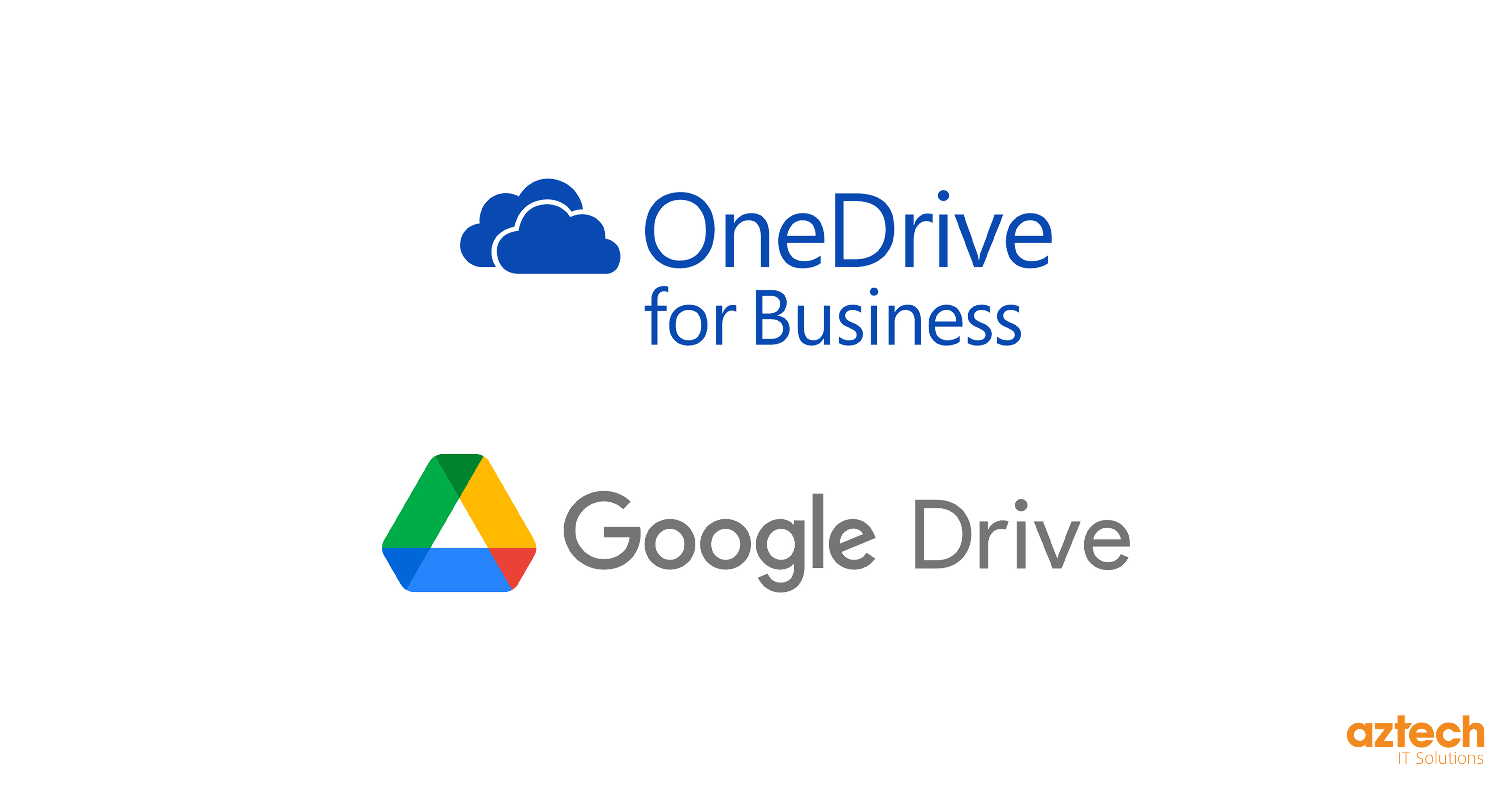 Storage and accessibility
Both Microsoft 365 and Google Workplace offer cloud storage. Microsoft comes with 1 TB of storage across all plans, and each user also gets an extra 50 GB towards their mailbox. Microsoft currently does not offer an unlimited amount of storage with any plan.
Google Workplace offers 30GB for Businesses on the Business Starter plan (which is the least expensive option). You can access 2 TB per user or unlimited storage on more premium plans.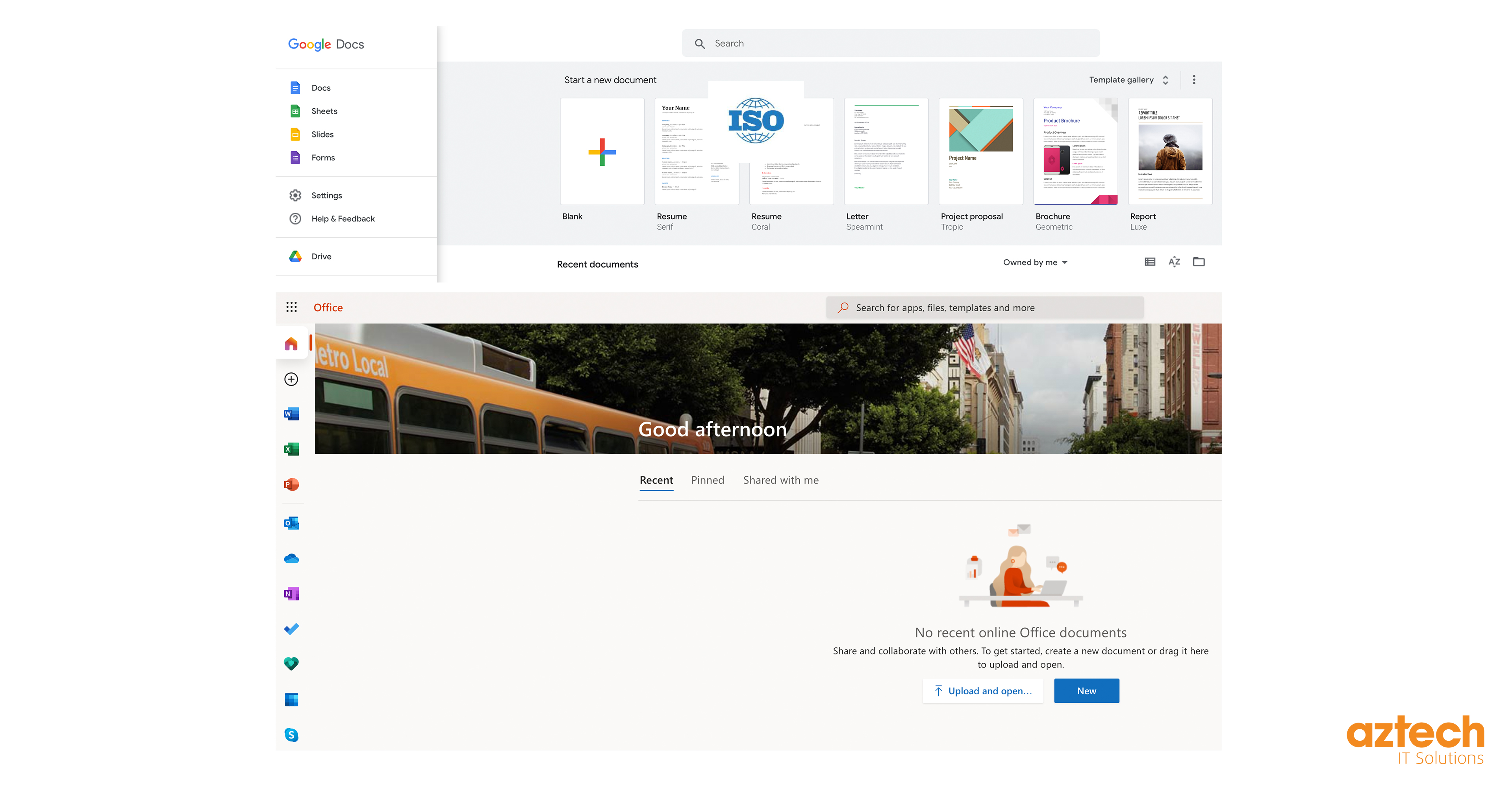 Ease of use
Unfortunately, there is not a black and white answer for which suite is easier to use. Microsoft applications are likely to be more familiar with users and therefore more people already know how to navigate around the applications.
However, Google Workplace is designed to be user-friendly and simple. Google applications are stripped back and have less clutter within each application for the everyday user, and therefore create a gentler learning curve for new users.
Security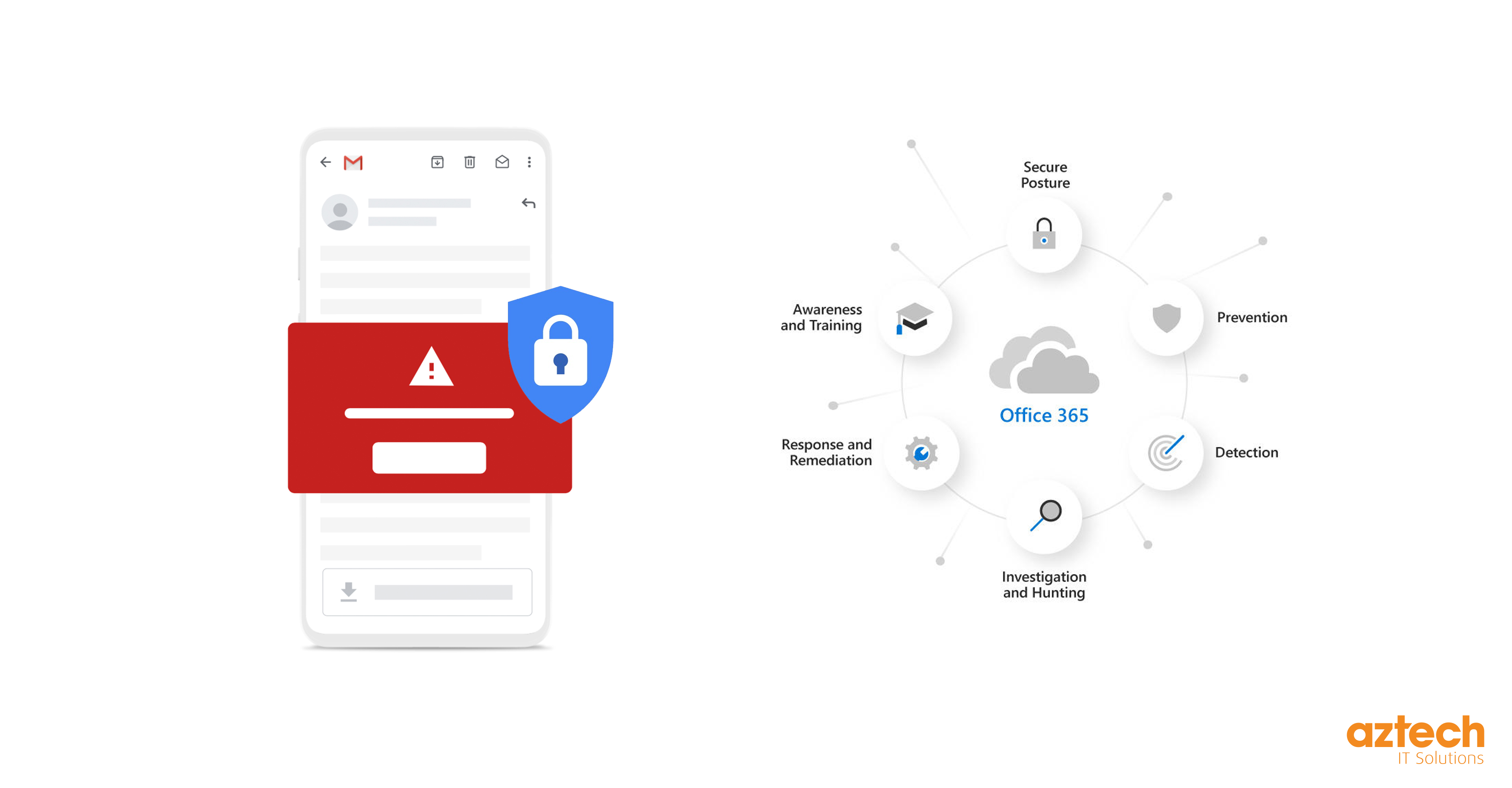 Data monitoring and protection
Microsoft 365 have recently released an updated Exchange Online Advanced Threat Protection which is a real-time filtering process that specifically targets spam and threats including viruses and phishing emails. The suite also includes multiple layers of encryption technologies that protect your data both in transit and at rest.
Google have custom-built servers, with a unique operating system with a vast network of data centres which aid their security and performance. Google manages and continuously monitors its full hardware stack any threats can be blocked quickly. Google Workplace uses machine learning strategies that help identify threats. Not to mention also offering full in transit or at rest data encryption. Furthermore, Google uses automatic and manual scanners which examine Google Search Index to determine whether websites are malware or contain phishing traps.
Compliance
Microsoft has an expert compliance team that tracks and monitors compliance regulations to be continuously updating control and compliance settings within the suite. Microsoft 365 currently have over 900 controls built directly into its compliance framework, which are constantly being refreshed and kept up to date.
Microsoft 365 has the following compliance certifications:
ISO 27001, 27018

SSAE16

SOC1 Type II & SOC2 Type II

FISMA

HIPAA

EU Data Protection Directive and GDPR
Google Workplace is fully compliant for organisations with compliance standards and was specifically designed with strict privacy and security standards. These standards are supported by users' contracts to ensure the top level of security and privacy is maintained.
Google has the following compliance certifications:
ISO 27001, 27018

SOC 2, SOC 3

HIPAA

FERPA

COPPA

EU Data Protection Directive and GDPR

User Access
Administrators can manage users accounts, access and permissions which helps prevent access and sharing of sensitive information.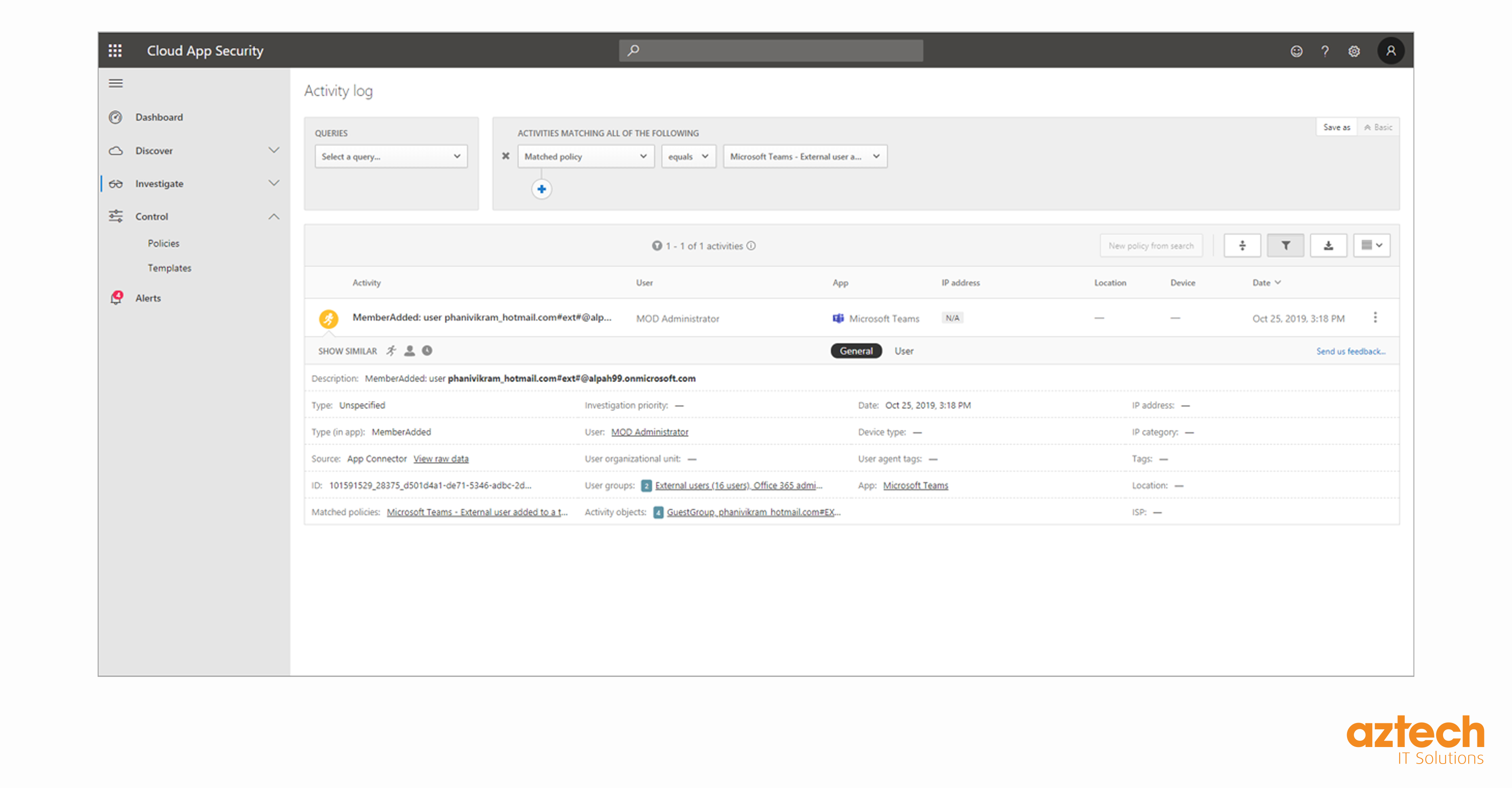 Security logs
Microsoft 365 offer the ability to delete activity logs if given specific permissions. This means logs can be removed, eliminating unnecessary data hoard, making security logs easier to monitor and search if needed.
On the other hand, Google Workplace's activity logs cannot be edited. This means that there is always an untampered record of activity if needed.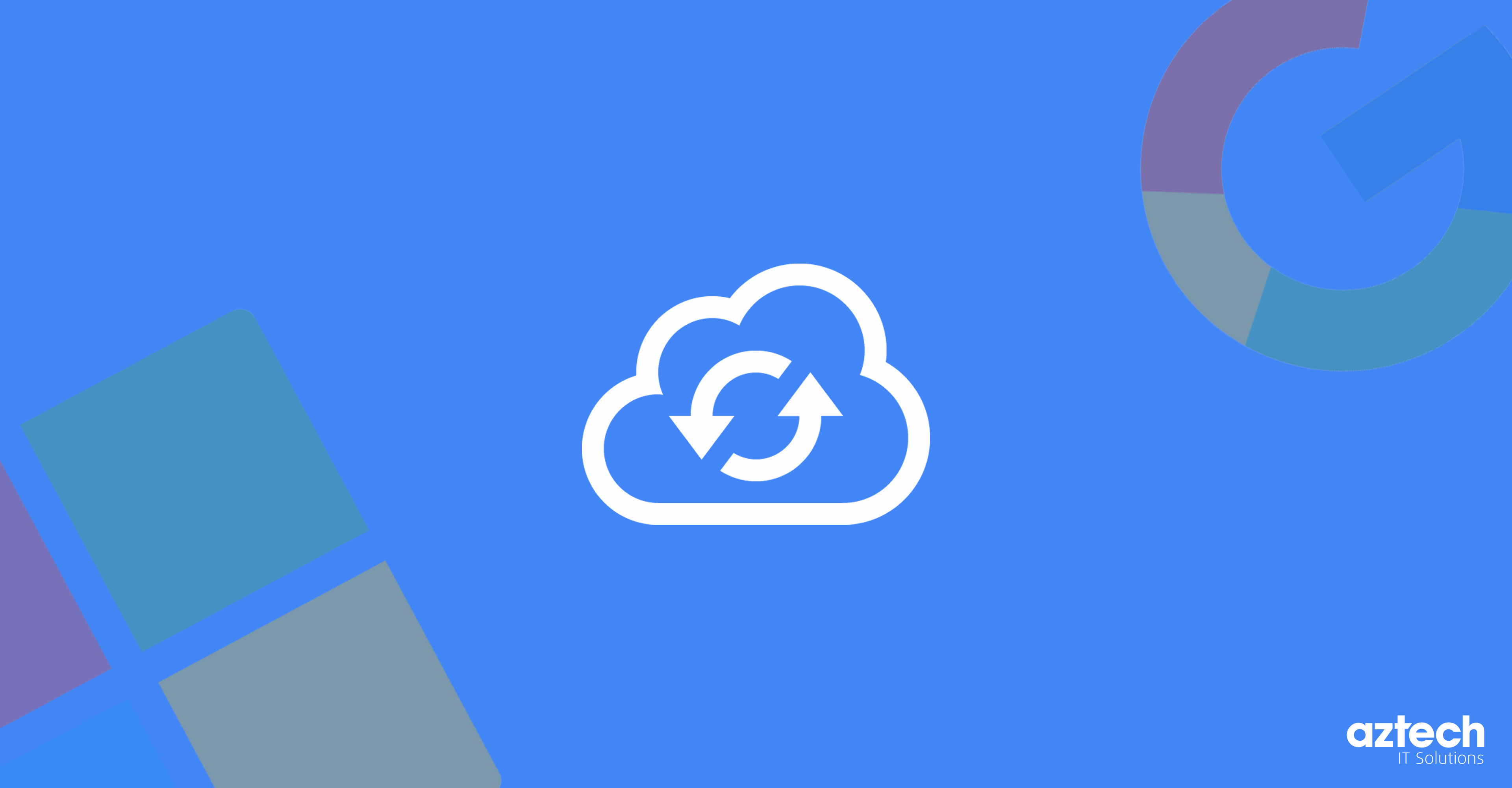 Automatic Updates
Since Microsoft 356 fully integrated with the Cloud, software updates happen automatically. This ensures all systems are constantly up-to-date and consistently protected.
As Google Workplace has always been fully integrated with the Cloud, the software is updated in an ever-constant motion. Continuously identifying any weaknesses, or vulnerabilities that are fixed in a time-conscious manner.
Price comparison
Microsoft 365 offers 4 different plans, ranging from £3.80 per user, per month (Business Basic), to £15.10 per user, per month (Business Premium). All plans offer premium office apps such as Outlook, Word, Excel, PowerPoint, Publisher and Access. However, the Business Basic plan only offers web and mobile versions of Word, Excel and PowerPoint.
Microsoft also offers an Apps Only plan which includes all of the apps stated above but does not include Teams, Exchange, OneDrive and SharePoint which all other plans do.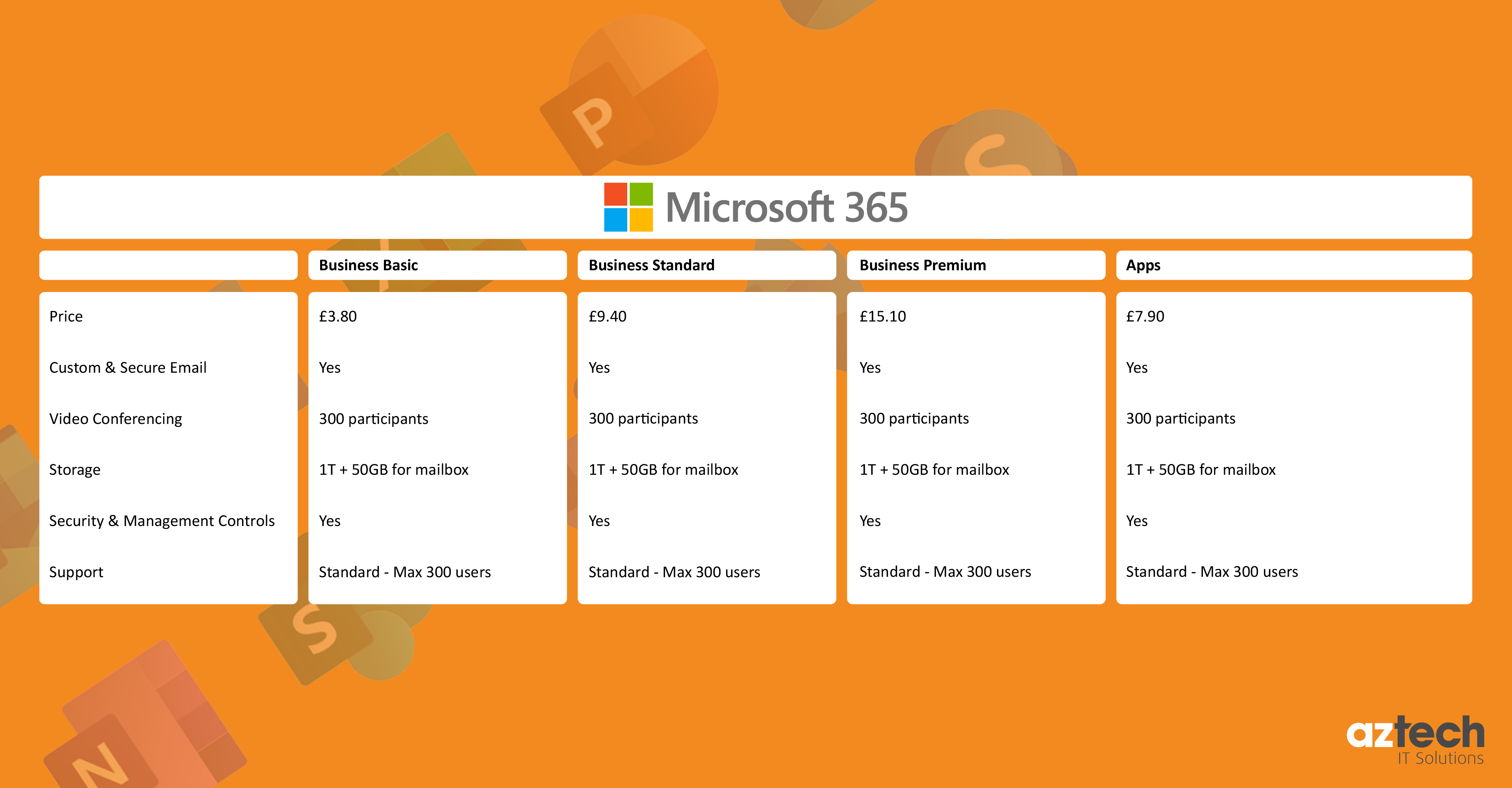 You can claim a 1-month free trial on any plan with Microsoft, and all plans are billed as an annual commitment.
Google Workplace also offer 4 different business plans at a slightly higher price point, however, offer more standard features with each plan, such as:
Gmail

Drive

Meet

Calendar

Chat

Currents

Jamboard

Docs

Sheets

Slides

Keep

Sites

Forms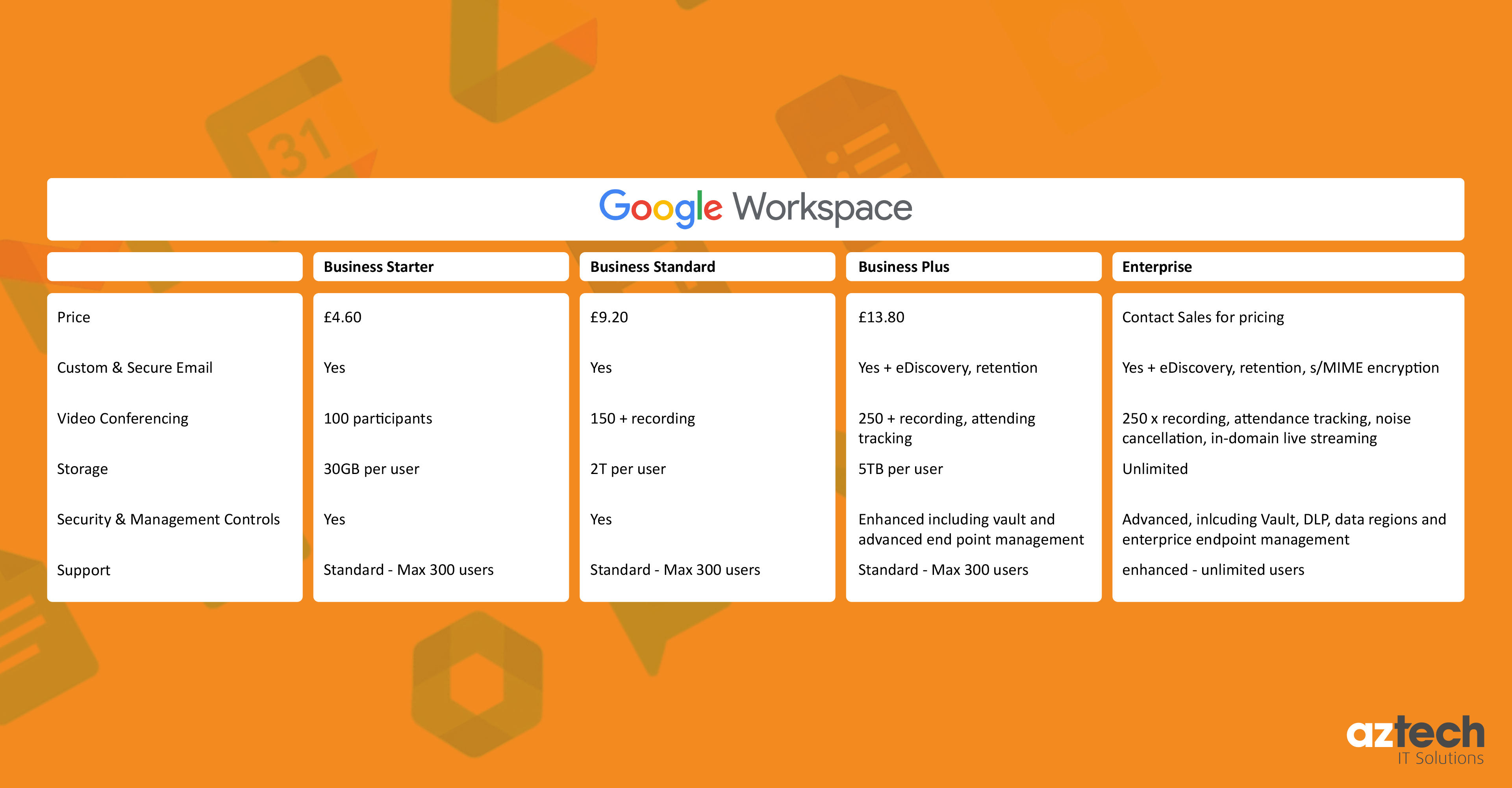 Google Workplace's most popular option is the Business Standard plan, which is £8.28 per user, per month for your first 20 users, after this, it increases to £9.20. This includes all of the above, as well as Customer and secure business email, 150 participant video meetings and recordings, 2 TB cloud storage per user, security and management controls and standard support.
Google Workplace also offers a Business Starter option for £4.14 per user, per month for your first 20 users, which then increases to £4.60, which includes the same as the Business standard plan but with less storage, fewer participants on video calls, and standard support.
On the more premium end of Google Workplace, they offer Business Plus and Enterprise which include add-ons such as email encryption, 250 participants on video calls and either 5 TB or unlimited storage per user.
Business Starter, Business Standard and the Business Plus plan, only allow a maximum of 300 users in each plan. You can claim a Free 14-day free trial on all business plans offered.
Our verdict
We wish it was as easy as one software is better than the other, but this is not the case.
Microsoft 365 is the top choice for traditional office, desktop software. The familiarity of Word, Excel and PowerPoint is a key selling point for many users. The security and reliability of Microsoft is second to none, and the one-hour support response which is available with each plan offers an extra layer of added support many businesses need.
However, Google Workspace is the greater online suite, perfect for remote teams. The user-friendly and simplistic design of the web-based features makes it a pleasure to use, offering real-time co-authoring, instant messaging and video call capabilities which create an ideal collaborative online workspace. The straightforward login process to access your whole Google Drive from any device or location makes this a winner for millions of users.