Business Intelligence (BI) is an essential source of actionable insights for companies of varying sizes. Companies rely on vast amounts of data to enhance agility, gain a competitive advantage, and future-proof operations. However, the ever-increasing amount of data derived from day-to-day business activities creates formidable challenges for organisations.
Big data is undoubtedly tricky to manage, which can compromise companies' ability to perform comprehensive data analysis. Fortunately, top-tier business intelligence tools like Microsoft Power BI make it easier for companies to leverage the wealth of data.

What is Microsoft Power BI?
Power BI is part of the Microsoft suite of premium business tools capable of empowering firms to improve operations. The solution ensures versatility by enabling users to gather and aggregate data from various sources. It offers graphic visualisation features to simplify the analysis of the information. Users can share insights with colleagues more conveniently.
This business intelligence platform provides access to a collection of connectors, applications, and software services. The best part is that it connects to a comprehensive array of native and non-Microsoft data sources. It turns the various data sources and business tools into a visually immersive and coherent analytical solution.
Due to the high level of versatility, you can analyse information seamlessly from Excel spreadsheets, on-premise hybrid data warehouses, or a series of cloud-based resources.

Making the Right Decisions
Turning to Microsoft Power BI is a sure-fire way for businesses to gain a competitive advantage by making smart decisions. Planning strategic moves based on insights, gleaned from big data, enhances both small and large organisations' growth potential.
User-friendly visualisation tools available in Microsoft Power BI enable decision-makers to make critical decisions faster. In doing so, companies outmanoeuvre competitors by delivering value to customers before other brands make their move. The tool comes with features that allow novices and experienced users to access detailed reports. In turn, it becomes easier to take advantage of actionable insights.

Azure Cognitive Services in Microsoft Power BI
Azure Cognitive Services allow you to tap into valuable insights contained in data generated from various sources. Some of the common sources include social media, images, and documentation. The data can reveal either positive or negative sentiments.
These services rely on powerful machine learning models to identify and extract useful insights. The information shown to users is vital to business operations. The system employs sophisticated algorithms to collect information. In addition, the algorithms can recognise locations, names, and organisations appearing in various sources.
Insights gathered by the tool enable multiple business units to stay ahead of the game. By allowing businesses to make educated decisions, Microsoft Power BI helps entities ensure customer satisfaction. As companies achieve their operational objectives, they boost revenue and bolster resilience.
To access the cognitive services, navigate to the AI Insights browser, accessible via Power Query Online. The Microsoft Power BI platform derives its strength from its capability to construct and double check queries. Additionally, the tool can handle information across multiple data sets. Users gain access to customisable visualisations, thus ensuring a good experience.
Microsoft Power BI eliminates the need to spend a significant amount of money hiring data scientists to process big data from different sources.

Key Driver Analysis
With the key driver analysis, you can identify factors driving a given outcome. Microsoft Power BI analyses different data sources and ranks the information based on factors, such as relevance. This feature provides a convenient way to analyse data without implementing costly in-house data processing and visualisation systems.
Stakeholders are sure to find it easier to understand the triggers of specific events, including positive and negative situations. The information plays an important role in stimulating the long-term growth of the business. Microsoft Power BI empowers decision-makers with information needed to take the correct steps to safeguard the company's future.
A great feature of Power BI is that Microsoft guarantees confidentiality and the security of sensitive information.

How we're using Power BI at AZTech
For many years we have used a fantastic solution called BrightGauge as our main Business Intelligence and reporting tool. We have no plans to stop using BrightGauge and continue to develop and improve our real-time dashboards and reports all the time, however, we have now also found a place for Power BI to complement the reporting we get from our other reporting tools.

By connecting Power BI to our commonly used business applications such as, Xero, ConnectWise Manage, ConnectWise Sell, Excel, and Google Analytics, we've gained even greater insight into our business, allowing us to make better business decisions based on data and numbers.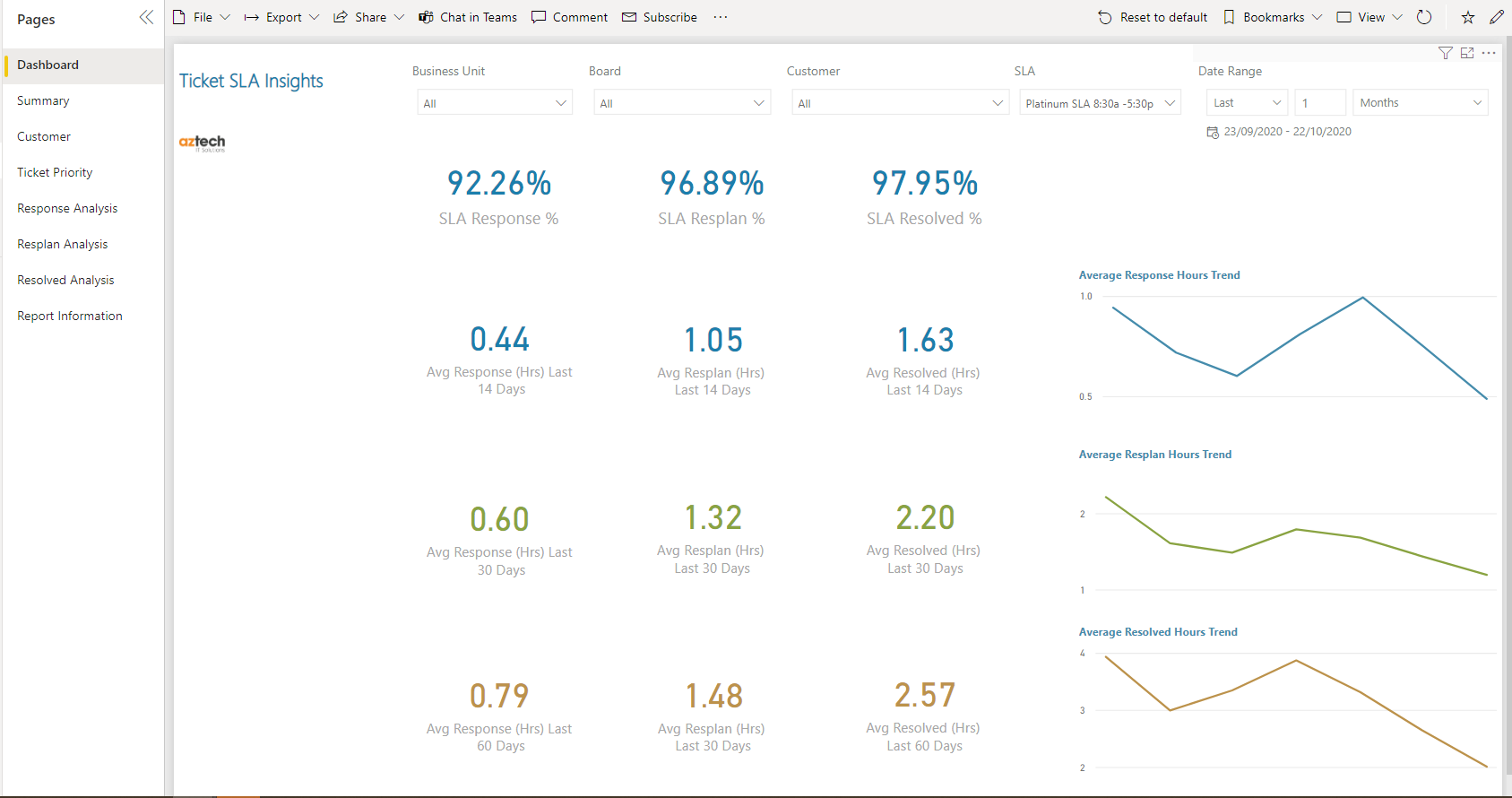 To leverage Power BI to great potential we engaged with Cognition360 to provide data warehouse and business analytics services into our main-line-of-business application, ConnectWise Manage. The team at Cognition360 have created some incredibly powerful reports and dashboards to present ConnectWise Manage data, allowing us to focus in on key critical metrics, trends and KPI's.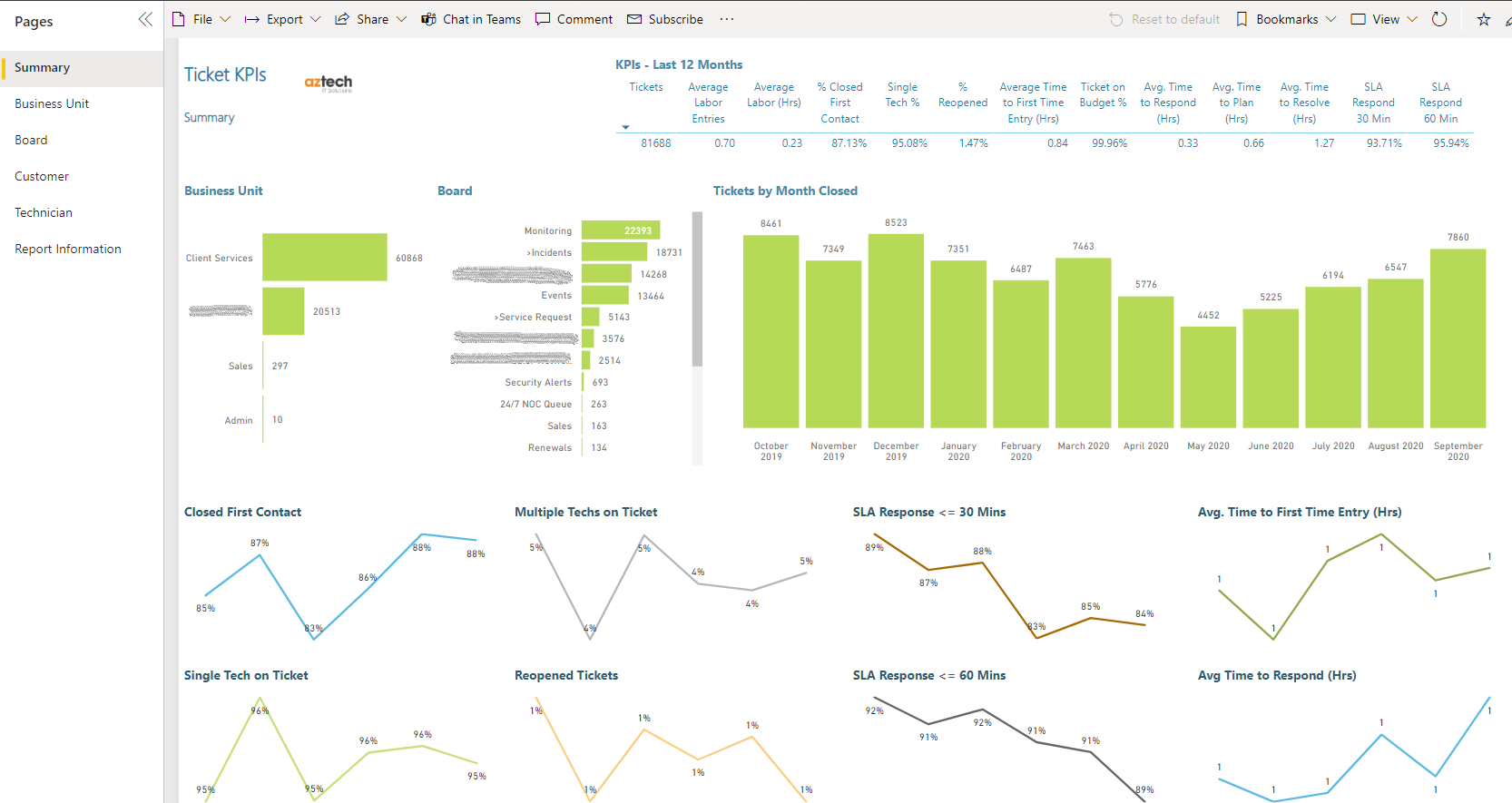 Through intelligent reporting and analytics, we are now able to make improvements to our business, and service delivery to our clients, by reviewing and understanding metrics such as the following list (to name but a few):
Engineer Productivity
Contract Profitability
Service Ticket Lifecycle
Project Profitability
Time Spent on Client Tickets
Client Trends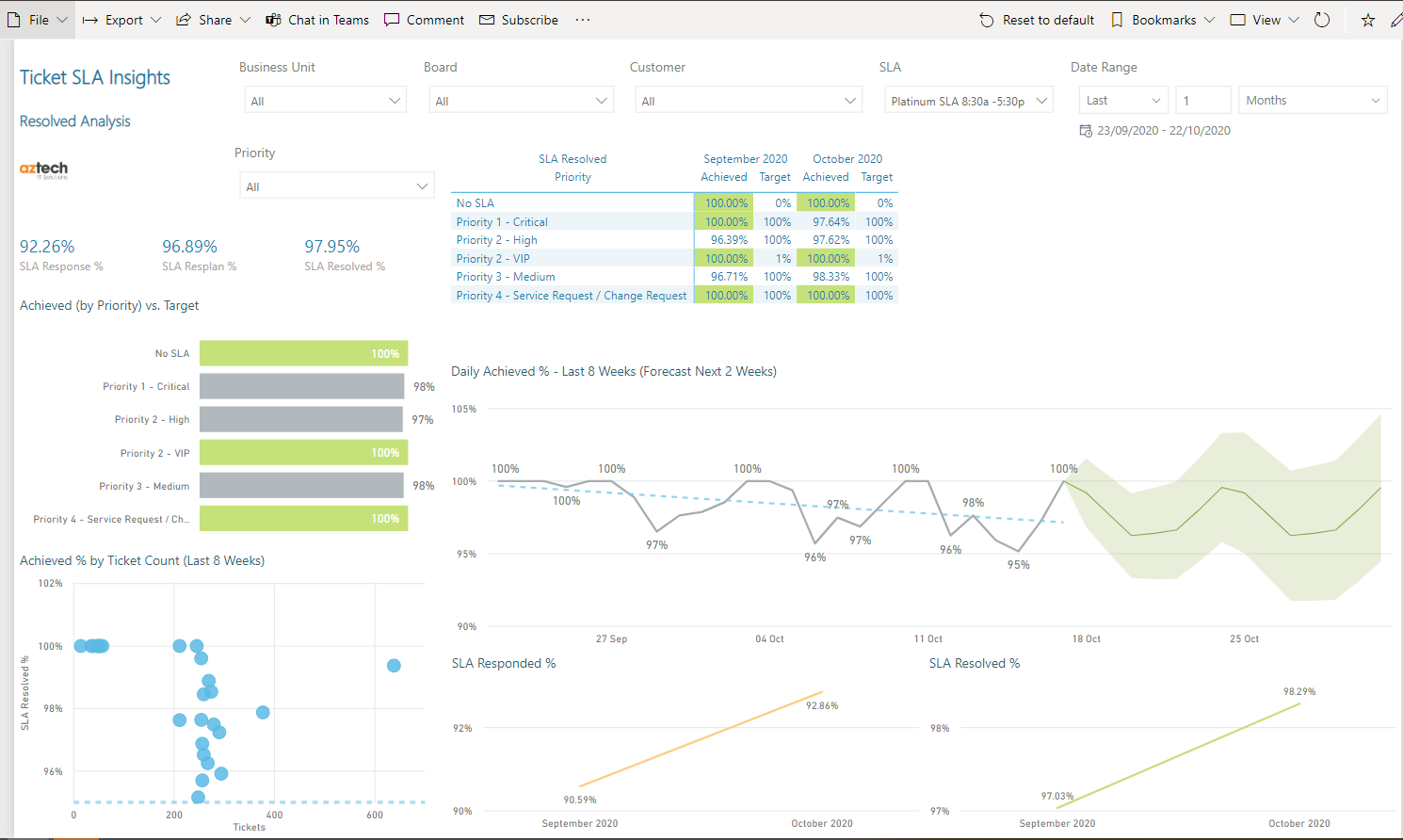 How AZTech are helping clients with Power BI
In recent months AZTech has been working with several clients to implement and leverage Power-BI into their organisations.
A recent project for a client has seen us develop dashboards and reports in Power BI so we can present an analysis of time logged by users by type of task, department, or sport.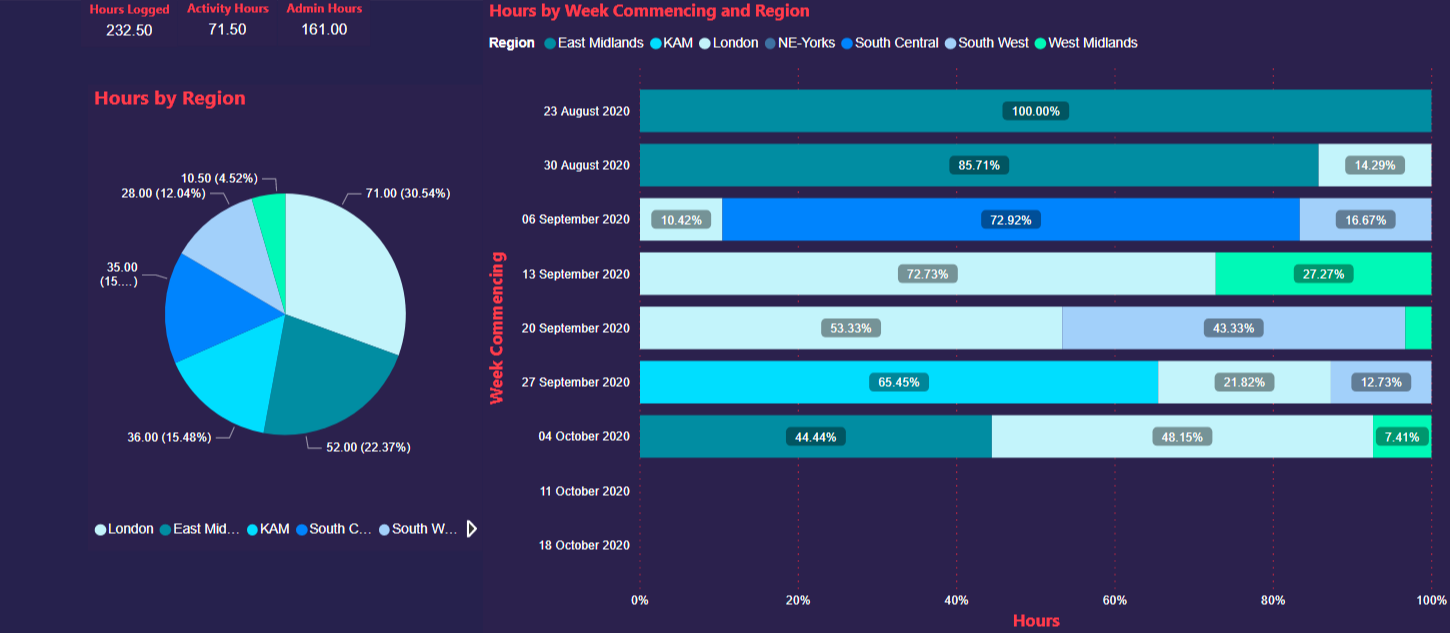 All data can be filtered be a series of metrics and charts can be interlinked and drilled into to give valuable insights into the detail of what makes up the chart.
So how much does it cost to implement Power BI into my organisation?
Well firstly, you need to think about the software subscriptions for Power BI. You would then need to decide if you are going to self implement Power BI or work with an IT partner to deliver the project. If you are going to work with an IT partner, the cost of the project is typically going to depend on the scope and how much work is involved. Day rates for implementing and developing Power BI can typically range between £600.00 to £950.00 per day.
Isn't Power BI Free?
Well, yes and no...There is a free version of Power BI but it comes with some limitations. Power BI Pro, which is most commonly used, costs £7.50 per user per month here in the UK. Power BI Premium costs £3,766.70 per month. See more details here - https://powerbi.microsoft.com/en-us/pricing/
As well as the subscriptions there is also an application, Power BI desktop which is free to download and install. With Power BI desktop you can create reports, however if you wish to share these reports you will need one of the cloud subscriptions. You can choose either the free or Pro versions.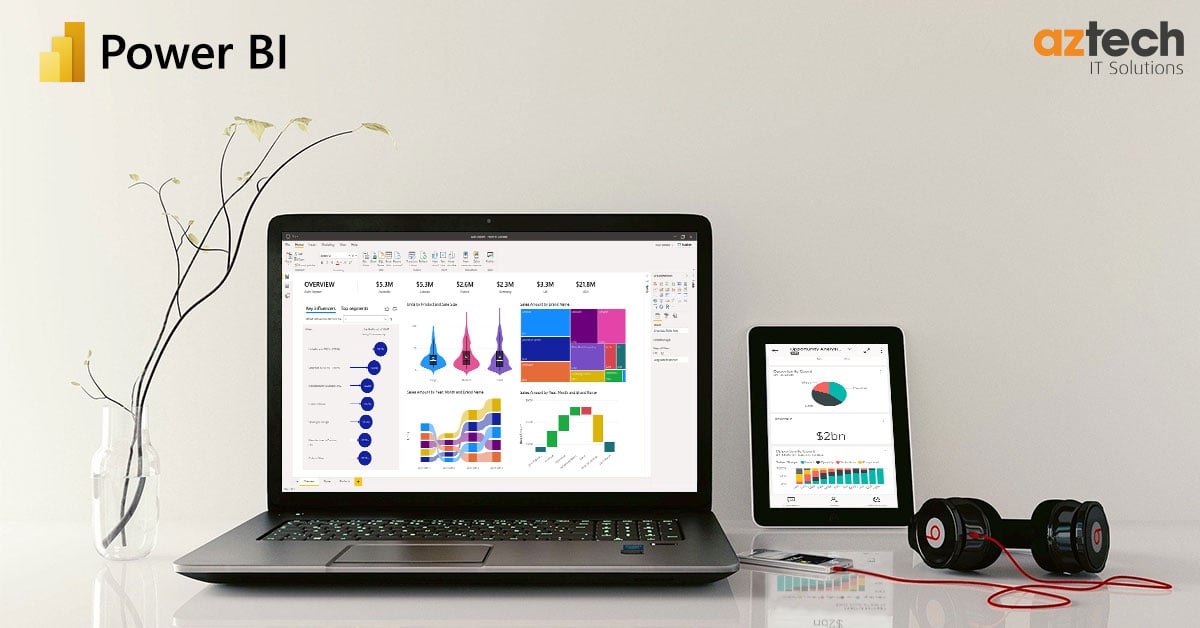 We shall save comparing all the subscription features for another blog, however in short, Power BI Free is the entry level subscription and is a good way to get started. You will have access to 10GB storage to host your dashboards and reports. However, on the Free version you will not be able to share these dashboards or reports with any other users.
With the Pro version you are able to share reports. Power BI Premium is designed for larger organisations and works on a dedicated capacity for large datasets to be accessed across the whole organisation and is not priced on a per user per month basis.
So Where do I Start?
The first thing to think about is, what information will help you make better decisions for your business? Is there information that will lead you to adding more profit to your bottom line, improving your service to your clients, engaging your employees more or help improve efficiencies and productivity? If the answer is yes, then you can potentially measure your ROI (return on investment) for implementing Power BI.
The next step would be a discovery session or a workshop to explore possible datasets and understand what data is available to integrate and produce reports and dashboards to display the required information. In the discovery session you can start to think about and plan how you would want the data presented.
Is the data best displayed on a dashboard that's displayed on view in your offices? Or, is the data sensitive? Should the data only be provided in a report for authorised personnel to view? Once you have established what data you want to be able to view, you can then move the project into design and production.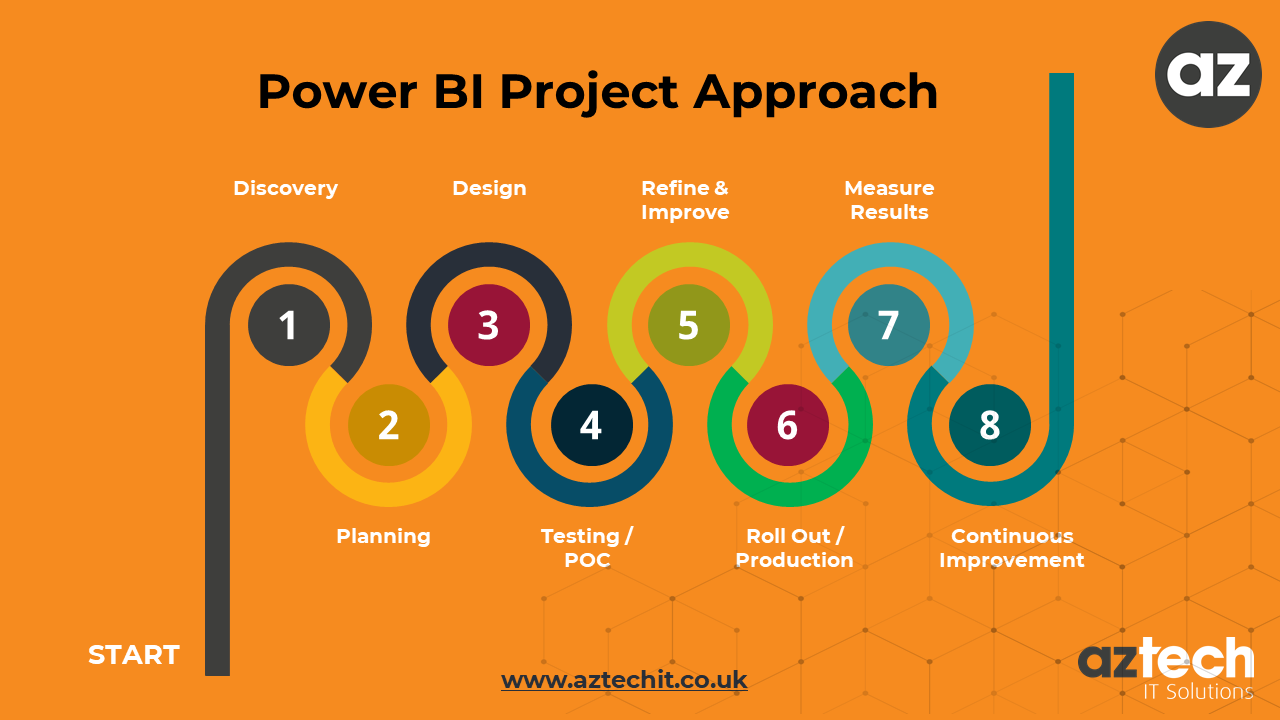 It's quite common that once you see your data presented in Power BI, it sparks more ideas on additional details you may want to see. It's a good idea to review after the initial design and testing to allow for any improvements or refining. Once any changes have been made, you are ready to move into production and rollout to users in your organisation.
Once you have embedded the reports into your business and have allowed some time to help the data guide your decisions, you will be in a position to evaluate the return on investment. When you review Power BI reports on a monthly, weekly or even daily schedule you will often find ways to improve the reports, so being open to continuous improvement can help you get the most from this powerful tool.
We Can Help
We are a Microsoft Gold Certified Partner, which means we have the highest degree of expertise in working with Microsoft technologies. We have personally seen how Power BI can better a business as it has given us greater insight into our own business, allowing us to make better decisions based on data and numbers.
At AZTech, our goal is to help your organisation grow and be the best it can be with the power of IT - if you want to see how Power BI can help your business, or would like some training on how to use Power BI, schedule an online meeting using the button below.