Disaster Recovery Services
Round-the-clock protection for your mission-critical systems with Disaster Recovery (DR)
Don't let a disaster put you out of business
A major data loss could be catastrophic for your business, so implementing a robust and comprehensive disaster recovery plan is essential to protect your mission-critical systems and data.
We take a broad view of disaster recovery and business continuity, working to ensure that every element of your critical infrastructure, applications and data is protected.
This allows us to create a comprehensive disaster recovery and business continuity plan that's tailored specifically to the needs of your organisation.
We partner with and leverage best-of-breed solutions including Datto, Microsoft Azure, Acronis, Veeam and AppAssure to deliver scalable and reliable business continuity as a service.
What happens when there's a disaster?
We know if your IT goes down, your business is left vulnerable. That's why we help you plan for the worst – ensuring your assets are protected, while helping to reduce downtime and speed recovery.
Ensure business continuity and protection of your assets with these solutions
Helping you safeguard your assets on-premises or in the cloud – focusing on minimising the impact of disaster on your business
Continuity Planning
We'll help you create a ready-to-run recovery plan, enabling you to get back on your feet at the earliest opportunity.


Co-location Services
We'll help you to get critical elements off-site and secure, ensuring they're able to survive the worst.


Cloud Backup
We'll create a comprehensive, secure cloud back up to protect systems and files for servers and workstations.
High Availability Solutions


We'll help design and build high availability solutions that can withstand and recover from disruption.



Site Recovery Services


We'll help re-locate your workforce to temporary space and ensure your IT systems are working from the cloud until your site location is recovered.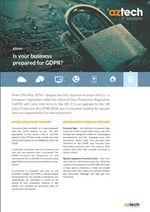 Find out more about GDPR and the considerations you need to be taking in order to comply to the regulation.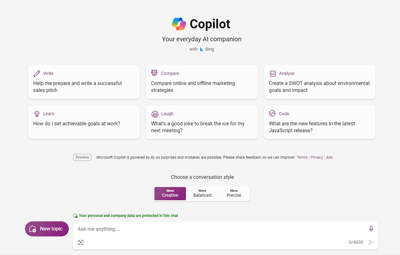 | December 6, 2023
Everything you should know about new Bing Chat for business. Microsoft announced the new Bing Chat for business to be available for users from 1st..
Ready to discuss how to protect your corporate data?
Get in touch today to talk to a IT security expert