The time, money and effort needed to productively run an efficient IT system is ever-increasing and for many businesses, they are falling behind on doing so. Partnering with an IT managed service provider (MSP) could be your solution to this.
In this blog, we cover what an MSP is, what the benefits are, whether you should need to partner with one and what to look for when choosing an MSP.
What is an MSP?
An MSP is an outsourced service that is responsible for the administration and management of a particular service. In this case, we're talking about IT MSP's. IT MSP's can cover a range of IT-related solutions, such as day-to-day IT support (help desk), Cybersecurity, Digital Transformation, and everything in between.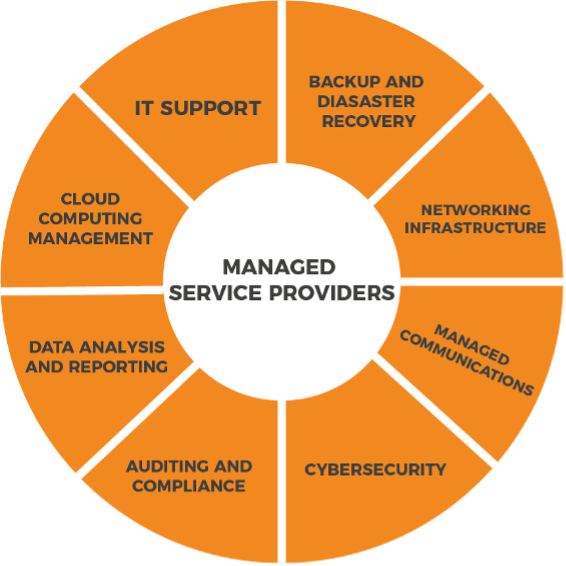 Click here to view AZTech IT's services.
MSP's can have as little or as much input on your business IT as required/desired by your business. Whether you need a full IT team supporting your business, or you just need a particular service, this blog will help you figure out if you need an MSP.
But more of that later… First, we're going to talk about the benefits of an MSP.
What are the benefits of an MSP?
The benefits of partnering with an MSP are truly endless. Depending on your business needs and requirements, we've listed, what we believe to be the top 8 benefits of an MSP.
Cost-effective
First and foremost, and the most exciting benefit to Business Owners and Finance Directors, MSP's can bring businesses huge savings.
First, MSP's can reduce the large upfront cost of building an IT infrastructure. This is particularly beneficial for start-ups and smaller businesses.
Secondly, recruitment cost is almost non-existent when working with an MSP. Instead of hiring a team of IT support staff or engineers in house, you will (usually) pay 1 flat fee to an MSP that includes all the staff you could need. MSP's can also offer a service of a Virtual IT Director, at an extra cost, however, much cheaper than paying an annual salary of an in-house It Director.
Furthermore, you can work with your partnered MSP to create an IT strategy, that will help plan for IT expenditure over a period (usually annually), which will help reduce unexpected costs.
Expertise
When partnering with an MSP, you can access the vast knowledge and experience of a large IT team. Due to the nature of an MSP having multiple clients, it is unlikely your MSP will come across an issue that they have not previously seen before and will be able to find a resolution for the issue quickly and effectively.
Scalability
Scalability gives businesses a competitive advantage, and therefore it is crucial to businesses hoping to grow. MSP's not only support businesses scaling requirements through planning and supplying hardware and software but will also ensure that firms maintain productivity and reduce downtime whilst scaling up or down.
Trend Visibility
As MSPs work with a range of businesses, in a range of industries, they will be the first to spot trends or new technology, applications and even threats. Using this knowledge, your partnered MSP can keep your business up to date, protected and will give your business a competitive advantage.
Business Continuity
One of the most important benefits of an MSP that is forgotten about regularly is disaster recovery and crisis management. Because a cyberattack or natural disaster will never happen to me, right? Wrong!
Cyberattacks are becoming more frequent and more aggressive. In 2020 46% of businesses experience a cyberattack.
MSPs offer regular backup, off-site storage, and crisis management and disaster recovery solutions. Furthermore, if a crisis or disaster was to ever happen, you can rely on your MSP to restore and recover your lost data/information/hardware and software quickly and effectively.
24/7/365 monitoring and support
Many MSP's offer 24/7/365 monitoring and support. Many cyber attacks happen after business hours and over holiday periods, such as Christmas, as malicious actors know there will be fewer people/no one working who will notice that the attack is taking place.
This service is invaluable, as very few businesses can monitor their IT 24/7 or have IT personnel available for support 24/7.
Avoid expensive downtime
Whether your business is moving location, implementing new software/hardware/updates, completely transforming their digital environment, or experiencing a cyberattack you can rely on your MSP to work in the background of your usual business activities which will significantly reduce expensive downtime.
Security
No business can ever have too much cybersecurity. Threats are evolving every single day, and each time they are becoming more sophisticated and less detectable by security solutions. MSP's will be kept up to date with the latest security threats, which means they can proactively source solutions for your businesses before an incident can occur. Furthermore, your MSP will have access to the latest security solutions, as well as have access to the best security providers.
Your chosen MSP can perform security audits and vulnerability scans to help increase visibility across the IT infrastructure and highlight weaknesses that need to be prioritised and addressed.
Signs that you need an MSP
Whether you need an MSP or not is relatively black and white. No spoilers, but most of the time the answer is that yes, you do need one. But just to prove we're not biased, here are some signs that your business would benefit from partnering with an MSP…
You do not have a dedicated IT team/staff:
Many smaller businesses, especially start-ups and charities do not have a dedicated, trained, educated, and experienced IT staff member. Usually, you'll find a computer-savvy person whose main role is something completely different. Your computer system is hacked, and all of your client data is stolen… Who are you gonna call? Janet from accounting? Or worse… the Gen Z apprentice who just happened to work at the Apple store.
Relying on someone who has limited knowledge of how to properly implement and manage an IT infrastructure will significantly reduce business productivity, scalability as well as open your business up to a plethora of cyber threats.
You want to save money/ you do not have enough money to hire a dedicated team:
If your business does not have enough money to hire a specialist team of IT professionals or, is looking to save money on IT-related costs then an MSP is for you.
As mentioned, when partnering with an MSP you have access to all the IT technicians, engineers, and other IT professionals that you will need. Furthermore, for an extra cost, your MSP can offer a Virtual Director service.
If you are looking to save money, MSPs can significantly reduce the upfront cost of building/developing your IT infrastructure. Furthermore, MSPs can even sometimes save you money on services such as Office 365 packages.
IT-related tasks are never-ending
Your business may have a dedicated IT team; however, they aren't as productive as you'd like as they are too busy dealing with Adhoc IT-related tasks. This is where an MSP can relieve your team of these tasks that aren't helping to drive your businesses profitability.
You've experienced an attempt or successful cyberattack
If you have experienced an attempted cyber-attack, especially a successful attack, you should speak to an MSP about how to protect your business fully and effectively. Cyberattacks can be detrimental to a business it can cost thousands of pounds to recover lost/stolen data and information, replace hardware and software, make up for lost time/downtime of the business, cover ransomware costs (though we do not advise you to pay ransom demands), and could destroy your brand reputation.
MSPs will not only completely audit your business looking for vulnerabilities, blind spots and weaknesses in your business, they can also provide user training, security solutions as well as 24/7 monitoring.
What to look for in an MSP
Every MSP differs and depending on your business needs will depend on what qualities of an MSP is important to your business. However, here is a checklist of things we believe are most important when looking for an MSP:
Support/Help desk

Fast response time

Layered cybersecurity solutions

Scalable support

A proven track record

Digital Transformation/ Cloud migration services

Accreditations, certifications, and a good reputation

Options tailored to your specific business needs
Why choose AZTech IT Solutions?
AZTech IT Solutions has 15+ years of experience and have clients of varying sizes and in varying industries. We are proud to offer bespoke IT solutions whilst creating a tailor-made approach to your business's specific needs.
We will help make decisions for your business to ensure it will thrive in a secure, optimised, and scalable environment, ensuring maximum business profitability and productivity. Utilising our team's expertise and experience we will help you choose the right hardware and software and will handle the planning, implementation, configuration, and maintenance of your IT infrastructure.
We are family-run businesses and are dedicated to offering and delivering large enterprise quality services, whilst creating a boutique and personable customer experience. Our account managers know our clients inside and out, therefore can offer proactive advice and service suggestions.
Want to hear more about the services we offer, how AZTech IT works, or still unsure about whether an MSP is right for you? Click the button below to schedule a call with one of our IT experts. We can discuss your business and offer some ideas of services that may benefit you – no strings attached.
If you're looking at improving your IT security but do not know where to start, download our IT security assessment and/or our IT heatmap. Both tools will help you uncover potential weaknesses and vulnerabilities in your IT infrastructure and help you prioritise which area you need to focus on improving.
Click here to download the IT security assessment.
Click here to download the IT risk heat map.