Everything you should know about Managed Service Providers and at what point you may need an MSP.
Is your business struggling to keep its IT systems running smoothly? Does the thought of ongoing software updates, system backups, cloud hosting, and network security measures overwhelm you and leave you wondering where to start?
If this is the case, then it may be time for you to consider enlisting the help of a top Managed Service Provider (MSP).
Managed services act as an effective solution, by providing comprehensive end-to-end IT management services tailored to meet any business needs.
In addition, managed services expertise in hardware maintenance, systematic troubleshooting, remote working, data protection, strategy consulting, dispute resolution abilities and more - and service providers can effectively reduce operational costs while increasing your business growth.
In this blog post we'll cover essential information that you should know as a managing director of an organisation, while considering a full service MSP provider.
What is a Managed Service Provider (MSP)?
If you're not quite sure what a Managed Service Provider (MSP) is, don't worry - you're not alone!
Essentially, an MSP is a IT services company that provides a range of technology solutions to other businesses, with a focus on managed services, data solutions, unified communications consulting, IT services and support services compiled into a single point of contact.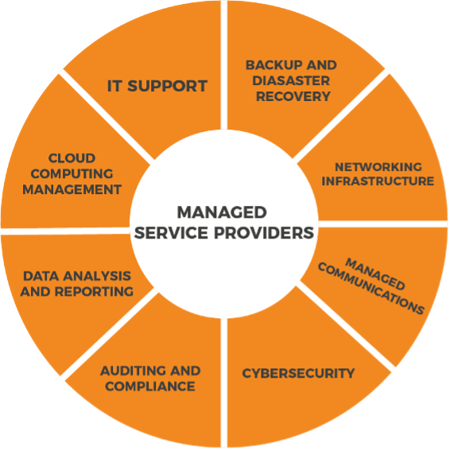 These solutions could include things like managed hosting, network support, cloud computing, and security services, to name just a few. In other terms, they are also known as Management service providers or companies.
Whether you're a small start-up, medium sized businesses or a large enterprise, partnering with a managed service provider can be a great way to offload technical responsibilities and ensure your business is running smoothly.
What is an IT Managed service provider?
In simple terms, managed IT service provider is IT services provider that provide remote IT support to clients.
These providers take on the responsibility of managing a company's IT infrastructure and as a IT consultancy to ensure it is running smoothly.
The aim of a Managed IT Service Provider is to help organisations minimise downtime to zero during the transformation process and keep systems running efficiently.
In addition, a managed services provider may offer an array of managed IT services, including monitoring and maintaining networks, cyber security trends and cloud services, data centre hosting, Unified Communications Consulting, and disaster recovery solutions.
Also, top managed service providers help organisations improve their IT performance, security, and compliance while freeing up their in-house IT staff to focus on more strategy consulting tasks.
Moreover, successful partnerships with managed IT services companies can lead to increased efficiency and productivity within an organization.
Why do businesses need an MSP for secure networks and optimised systems performance?
In today's world, managing IT services can be a daunting task, especially for companies that lack the necessary expertise.
This is where managed services come in for helping organisations with a very clear implementation plan.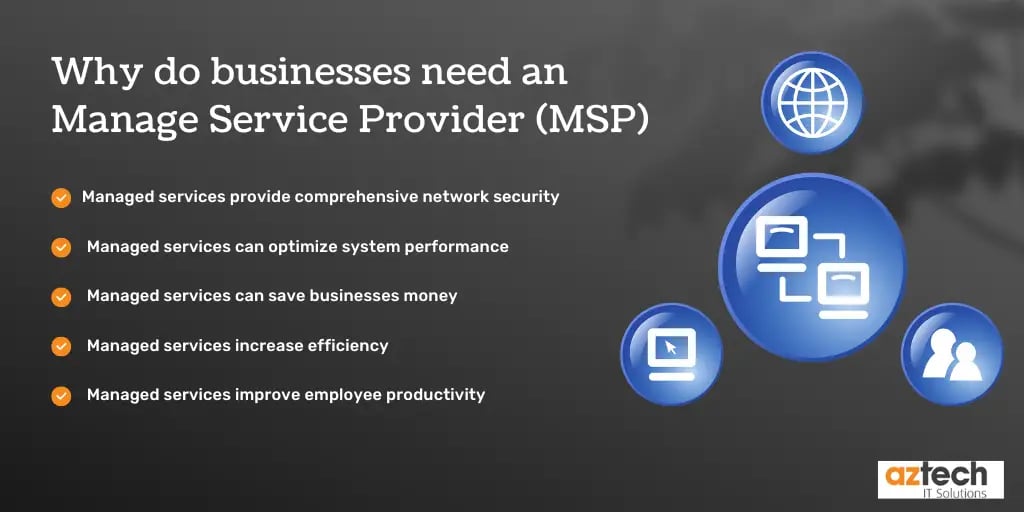 1. Managed services provide comprehensive network security
Managed IT services can have relationship exceptional with organisation and help transform businesses to secure their networks by providing comprehensive security solutions and cloud hosting.
In addition, managed services can also monitor networks for suspicious activity and provide 24/7 IT support in the event of a security incident.
2. Managed services can optimise system performance
Managed IT partner and strategy consulting firms can help firms to optimise their systems for peak performance by monitoring usage patterns and proactively addressing potential issues.
3. Managed services can save businesses money
Managed IT services can provide organisations with cost-effective IT services that are tailored to the small or medium size business needs.
Additionally, managed services often offer discounts on hardware and software purchases, which can further reduce costs.
4. Managed services increase efficiency
Managed services can help firms to increase their efficiency by automating tasks such as patch management and system updates.
In addition, managed IT services offer remote support services with advice, which allows businesses to get the help they need without having to wait for a technician to come on-site.
5. Managed services improve employee productivity
When IT professionals have access to reliable IT systems and 24/7 support, they are able to work consistently, calmly, efficiently and effectively.
This leads to increased productivity for companies as well as inspiring confidence in the internal team.
Benefits of having a Managed Service Provider (MSP)
The benefits of partnering with an MSP are truly endless. Depending on your IT needs and requirements, we've listed, what we believe to be the top 8 benefits of a managed service provider.
1. Cost-effective
First and foremost, and the most exciting benefit to Managing Directors', managed services can bring businesses huge savings.
Also, managed services can reduce the large upfront cost of building IT infrastructure. This is particularly beneficial for start-ups and smaller businesses.
Secondly, recruitment cost is almost non-existent when working with a managed services provider. Instead of hiring a team of IT support staff or engineers in house, you will (usually) pay 1 flat fee to an IT managed service provider that includes all the staff you could need.
Managed services can also offer a service of a Virtual IT Director, at an extra cost, however, much cheaper than paying an annual salary of an in-house IT Director.
Furthermore, you can work with your partnered MSP to create an IT strategy that will help plan for IT expenditure over a period (usually annually), which will help reduce unexpected costs.
2. Expertise
When partnering with an MSP, you can access the vast knowledge and experience of a large IT team.
Due to the nature of a managed services provider having multiple clients, it is unlikely your strategy consultant will come across an issue that they have not seen before and will be able to find a resolution for the issue quickly and effectively.
3. Scalability
Scalability gives you a competitive advantage, and therefore it is crucial for firms hoping to grow.
Managed services not only support strategy consulting firms scaling requirements through planning and supplying hardware and software.
But, will also ensure that firms maintain productivity and reduce downtime whilst scaling up or down.
4. Trend Visibility
As MSPs work with a range of firms, in a range of industries, they will be the first to spot trends or new technology, applications and even threats.
Using this knowledge, your partnered managed services can keep your business up to date, protected and will give your organisation a competitive advantage.
5. Business Continuity
One of the most important, but most forgotten benefits of an MSP is disaster recovery and crisis management.
Because a cyberattack or natural disaster will never happen to me, right? Wrong!
Cyberattacks are becoming more frequent and more aggressive. A report from UK's leading experts say, '32% of UK businesses reported suffered an attack or breach between 2022-2023. For medium businesses, this rises to 59%. For large businesses, this rises to 69%'.
Managed services offer regular backup, off-site storage, crisis management and disaster recovery solutions.
Furthermore, if a crisis or disaster was to ever happen, you can rely on your MSP to restore and recover your lost data/information/hardware and software quickly and effectively.
6. 24/7/365 monitoring and support
Many MSP's offer 24/7/365 monitoring and support. Many cyber attacks happen after working hours and over holiday periods, such as Christmas, as malicious actors know there will be fewer people/no one working who will notice that the attack is taking place.
This service is invaluable, as very few organisations can monitor their IT 24/7 or have IT personnel available for support 24/7.
7. Avoid expensive downtime
Whether your organisation is moving location, implementing new software/ hardware/ updates, completely transforming their digital environment, or experiencing a cyberattack, you can still be safe.
How this is possible? Yes, you can rely on your strategy consulting IT partner specialist team to work in the background of your usual company activities which will significantly reduce expensive downtime.
8. Increase Security
MSP's will be kept up to date with the latest security threats, which means they can proactively source solutions for your businesses before an incident can occur.
Furthermore, your managed services will have access to the latest security solutions, as well as have access to the best security providers.
Your chosen managed services can perform security audits and vulnerability scans to help increase visibility across the IT infrastructure and highlight weaknesses that need to be prioritised and addressed.
Source: David Papp
Tips for finding the right IT Managed Service Provider for your business
How to find the right MSP for your business? Here are 5 pro tip to find the right IT managed service provider for your IT need.
1. Define Your Needs
The first step in finding the right MSP for your business is to define your needs. What services does your business require? What are your budget constraints?
So, once you as a managing director have a good understanding of your business needs, they can start to narrow down their options and tick all the boxes.
2. Do Your Research
Once you as a managing director have a list of potential managed services providers, it's time to do your research.
Moreover, read online reviews, check out their website, and talk to other organisations that have used their services.
Also, this will help you get a better idea of what each MSP has to offer and whether or not they're a good fit for your business.
3. Ask for References
When you've narrowed down your list of potential MSPs, be sure to ask each one for references.
These references should be from businesses that are similar to yours in size and industry. This will give you a good idea of how well the MSP has performed for other businesses in the past.
4. Get a Written Proposal
Once you've selected a few strategy consulting service providers that you feel are a good fit for your business, be sure to get written proposals from each one.
This proposal should outline the services that they offer, their pricing structure, and any other important details. Be sure to review these proposals carefully before making your final decision.
Additionally,
5. Make Sure They're Licensed and Insured
Before selecting a service provider, be sure to verify that they are licensed and insured. This will protect you in the event that something goes wrong while they're working on your IT systems.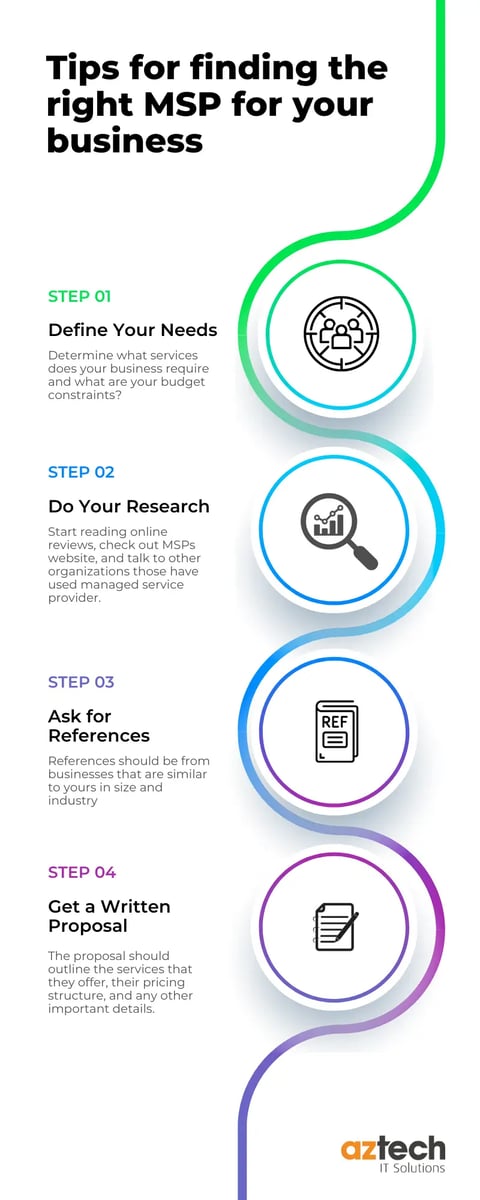 Tips for finding the right IT Managed Service Provider for your business - Download Infographics
Advantages of using an IT Managed Service Provider over in-house IT staff
Below are the advantages of using an IT managed service provider as a long term partner.
1. Less headaches
When you outsource your technology needs from a IT solutions provider, you'll likely experience lesser headaches as you won't have to worry about managing and troubleshooting your IT infrastructure yourself.
Instead, you can focus on running your business and leave the IT management to the services company.
2. Increased productivity
Outsourcing your IT needs can also lead to increased productivity for your organisation. That's because your employees will no longer have to waste time solving challenges.
Also, they can instead focus on their core tasks and responsibilities, which can lead to better results for your business.
3. Reduced costs
Working with a IT managed service provider can also help to reduce a managing directors' overall IT costs.
That's because managed services typically charge a flat monthly fee, which can be much cheaper than hiring an in-house IT team.
Additionally, managed services often offer discounts on software and hardware, which can further reduce your costs.
4. Greater flexibility
When you outsource your IT needs, you'll also enjoy greater flexibility for your business. That's because you'll be able to scale your IT infrastructure up or down as needed, without having to worry about hiring or firing employees.
This can be especially helpful if your business experiences seasonal fluctuations in demand.
5. Improved security
IT Managed service providers typically have extensive experience in cybersecurity, which can help to improve the security of your IT infrastructure.
In addition, they can implement the latest security technologies and best practices to help protect your data from cyber threats such as malware, viruses, and hackers.
Also, MSPs provide an array of managed services, including cyber security, cloud solutions, and big data consulting, that can help keep your organisation's technology up-to-date and secure.
6. Enhanced compliance
If your business is subject to certain industry regulations, working with a IT managed service provider can help you ensure compliance.
That's because IT managed service providers can help you implement the necessary policies and procedures to meet regulatory requirements.
Additionally, they can provide ongoing monitoring and reporting to help you maintain compliance over time.
7. Better uptime
Another benefit of working with a IT managed service provider is that they can help improve the uptime of your IT infrastructure.
Also, managed services typically offer 24/7 monitoring and support, which means they can quickly identify and resolve any issues that arise outside of normal business hours.
This can help minimise disruptions to your business operations and keep things running smoothly.
7 Important signs you may need an MSP for your business.
Whether you need a service providers or not is relatively black and white. No spoilers, but most of the time the answer is that yes, you do need one.
But just to prove we're not biased, here are some signs that your business would benefit from partnering with a managed services company.
You're experiencing more cyber attacks
You don't have an in-house IT team
Your IT team is overwhelmed
You're expanding your business
You're moving to a new office
You're implementing new technology
You're not sure where to start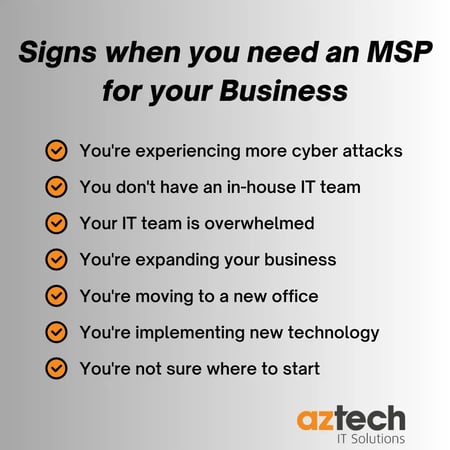 Questions to ask a potential MSP before signing on:
What services do you offer?

What are your areas of expertise?

What is your approach to managing IT systems?

How do you handle service outages?

How long have you been in business?

How many clients do you currently have?

Can you provide references from some of your current or past clients?

What is your customer satisfaction rate?

What is your average response time to service requests?

Do you have a Service Level Agreement (SLA) that we can review?

What are your rates and fees?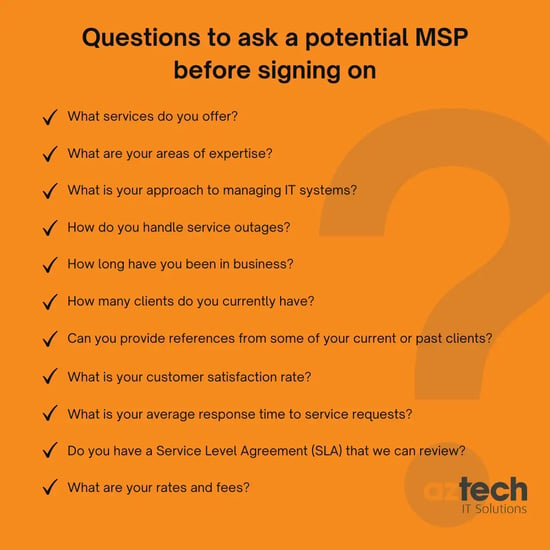 What are the challenges of having an MSP?
The challenges of having an IT Managed Services Provider can be divided into two main categories:
1. Technical Challenges
Technical challenges include the need to constantly update and upgrade technology, keep up with changes in the IT industry, and troubleshoot problems that arise.
2. Business Challenges
Business challenges include maintaining a high level of customer satisfaction, managing employee turnover, and dealing with the financial aspects of running a business.
What are some examples of IT managed service providers?
1. IT Support Companies
From troubleshooting software issues to setting up secure networks and managing backups, IT support companies have the expertise needed to help your company run smoothly. For example, Accenture Plc, Hewlett Packard Enterprise Co. etc.
2. Web Hosting Providers
These IT managed service providers offer a great deal of convenience by providing server space for storing your website and making it accessible on the internet and web design services. For example, GoDaddy, Bluehost etc.
3. Cloud Computing Provider
These companies specialise in providing cloud-solutions and services, including servers, storage, and applications. For example, Google Could Platform, Amazon Web Services (AWS), Microsoft Azure
Also, there are two types of service-based IT Managed service provider:
Technical Support Service Provider where a technician diagnoses and repairs any technical issues remotely.
Subscription Based Service providers who offer ongoing IT support for a set monthly fee.
Why choose aztech?
Aztech IT Solutions is an award winning UK leading provider in managed IT services and support.
With 15+ years of experience in IT support, we have clients of varying sizes and in varying industries.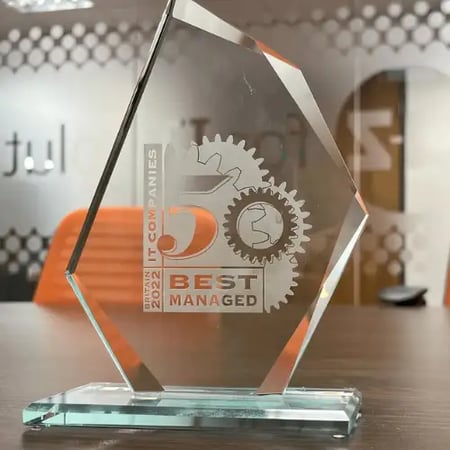 Our mission is to exceed expectations with our clients and provide value to your organisation with highest quality of work.
Also, we are proud to offer bespoke IT solutions whilst creating a tailor-made approach to your business's specific needs with both Technical Support and Subscription Based Services.
Furthermore, we will help make decisions for your business to ensure it will thrive in a secure, optimised, and scalable environment, ensuring maximum business profitability and productivity with global reach.
In addition, utilising our team's expertise and experience, we will help you choose the right hardware and software with positive meetings and will handle the planning, implementation, configuration, and maintenance of your IT setup.
Aztech IT Solutions is dedicated to offering and delivering large enterprise quality services with our supportive manner, whilst creating a boutique and personable customer experience.
Our account managers know our clients inside and out, therefore can offer proactive advice and service suggestions.
Want to hear more about the services we offer, how Aztech IT works, or still unsure about whether a managed services provider is right for you?
We can discuss your business and offer some ideas of services that may benefit you – no strings attached.
If you're looking at improving your IT security but do not know where to start, download our IT security assessment and/or our IT heatmap.
Both tools will help you uncover potential weaknesses and vulnerabilities in your IT infrastructure and help you prioritise which area you need to focus on improving.
Click here to download the IT security assessment
Click here to download the IT risk heat map