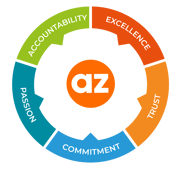 Our Mission
Our mission is to exceed our clients' expectations with every interaction.
Provide value to their organisation so we are trusted as a strategic partner.
To be recognised as a leading, innovative provider in our marketplace.
Our Vision
We are building a dynamic, fun and continuously improving organisation founded on passion and the superior delivery of services.
We empower our clients to focus on their core business, enhancing and accelerating their success.
We provide our team a challenging and progressive opportunity to contribute, learn, and grow whilst maintaining a healthy work-life balance.
Our core values help us achieve this.