Microsoft Teams is a "Modern Conversation Experience for Today's Teams". It helps keep everyone in the conversation, allowing for open conversation and collaboration with your colleagues in the Teams Channels, but also in private chats. Skype is deeply integrated, so you can use voice and video in conferences, as well as add a touch of personality to your digital workspace with GIFs, stickers, custom memes and more to truly make it your own.
Microsoft Teams is updated frequently with new features and updates, we'll update this blog monthly with the latest features so make sure you bookmark this page so you'll always know what's new in Microsoft Teams. See the latest updates below:
February 2021
Left on mute but want to react - use live reactions!
Use live reactions such as "like", "love", "applause", or "laugh". Hover over Show reaction
in meeting controls at the upper-right area of the screen, where Raise hand
was before—it hasn't changed and now appears alongside four live reactions, including Like
, Love
, Applause
, and Laugh
.
(Please note: Live reactions appear when using filters and backgrounds and in breakout rooms, but not in Together mode or large gallery view. If live reactions aren't available, check with your IT admin or meeting organiser to see if the features are enabled.)
Update to keyboard shortcuts within meetings
You can now use a shortcut to raise your hand or find out who else has risen their hand -
Ctrl + Shift + K raises and lowers your hand
Ctrl + Shift + L your screen reader will read out loud a list of anyone with their hand raised
(for Mac uses, use Command + Shift + K / Command + Shift + L)
Pick up where you left off in your presentations
If you've stopped presenting and need to share your presentation again, or if you're going back and forth with a colleague - you can now resume from your last slide with ease.
January 2021
"Teams for free" update
When scheduling a meeting in the free version of Teams, you can now have an agenda view that lists your upcoming meetings - in this new view you'll be able to copy an invite to share with others as well as a shortcut to "Meeting Options". Find out more about Meetings in the free version of Teams here.
Join a Teams meeting directly from Google Workspace Calendar
With the new Teams add-on for Google Workspace, you can schedule and join Teams meetings directly from your Google calendar. You'll be able to make video calls, work together with a digital whiteboard, and stay connected across your work. Find out how to set it up here.
Refresh your Teams Meetings
There are new "scenes" for your meetings in Together mode. Change the scene once you're in Together Mode, select Change Scene in the bottom left corner of your meeting.
Manage your workload within Teams
Organise your workload with the Tasks app, powered by Planner, in one place. You'll be able to access Tasks as an app on the left hand side of Teams and as a tab channel within individual teams. Find out more here.
Streamline requests and processes
Use the Approvals app to create requests, see ones sent to you and view all previous requests in one location. Find out more here.
Use Breakout Rooms for small discussion groups
If you're looking for a way to create meaningful discussions during meetings, in the virtual classroom or even for a digital book club, try out Breakout Rooms in Microsoft Teams Meetings.
During your meeting, go to the meeting controls and find a button called Breakout rooms - here you can select a number of rooms you want and you can choose whether to automatically assign participants or manually assign people.
The meeting organiser can join any of the breakout rooms and contribute to chats, as well as send announcements. This is a fantastic feature for workshops, group activities or even virtual pub quizzes.
Find out how to set them up here.
December 2020
Have as many Teams as needed

There's no longer a maximum amount of Teams Channels your organisation can create. Now you have the freedom to organise your channels in the way that suits you.
Get rid of the background noise
We all know now how annoying background noise can be during a meeting or presentation - Teams now lets you suppress any background noise! Go to your profile picture at the top of the Teams, then click on Settings>Devices>Noise suppression. In the menu, select "High" for an even stronger suppression of background sounds. So whether your pets are making noise, or you have a TV on in the background, Teams has you covered with a blanket of quiet.
New Look to your Audio and Video Settings
Now when you join a Teams meeting, you'll see your audio settings on the right - here you can choose between using your computer's speakers (default), a meeting room, your phone, or disable all audio.
On the left, you'll see a preview of your webcam video and a setting to turn on background effects. If you need to find a specific mic or camera, look under your video preview, select
to open device settings and then use the dropdown menus on the right to find your device.
Pin Posts
Now you can pin messages in your channels to make it easier to access the information you need, whether it's an address, event details or about the channel - whatever the message is, you can make it quick and easy to find by hovering on the message and selecting More options
> Pin
.
All items pinned in a channel can be found in the channel info pane, you can find this at the top right of the channel. Select Show channel info
and you'll find Pinned posts below the list of members who've recently contributed to the channel.
Need to focus for a few hours?
Set status durations in Teams! Select your profile picture at the top of the app, select your status (Available, Do not Disturb, etc.) that shows under your name, then select Duration. From there, choose your status and how long you want it to display. Such as, "do not disturb until 3pm".
Use Apps in your meetings
Enhance your online meetings with the use of apps - after you've sent an invite, open up the meeting details and select + at the top, then select an app and press Add. Find out more about enhancing your meetings here.
Use multiple languages in Microsoft Teams?
In the Windows Desktop app, Teams spellchecker can now detect when you change languages to prevent unnecessary spell checks. Additionally, spellchecker now defaults to your operating systems keyboard chosen language and will automatically adjust when you switch between keyboard languages.
Improved Search Results
When you search, you'll now see the top three most relevant messages at the top of the 'Messages' tab. Simply type a word or phrase in the command box at the top of Teams and press 'Enter'. Then select the Messages Tab - here you'll see three top results followed by all results.
---
October 2020
"Keep it secret, keep it safe" - In the latest update from Microsoft, you can now turn off message previews in your desktop notifications, which is great for when you're screen sharing and don't want private messages shown.
To enable this feature, go to:
Profile Picture > Settings > Notifications > Show message preview and then if the button is green, click on it to turn it off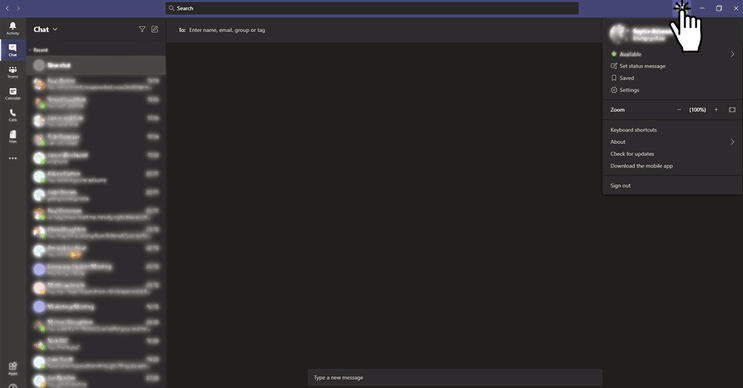 Stay Hidden
Need a break from people chasing you on Teams? Don't want people to know you're online yet? Now you can set your status as Appear Offline! Just like in the good ol' MSN days, you can now set your status to Appear Offline - you'll still receive notifications if anyone messages you, but you'll be able to get on with your work while appearing "invisible" to others.
Simply click on your display pic, then click on your status and go down to 'Appear Offline':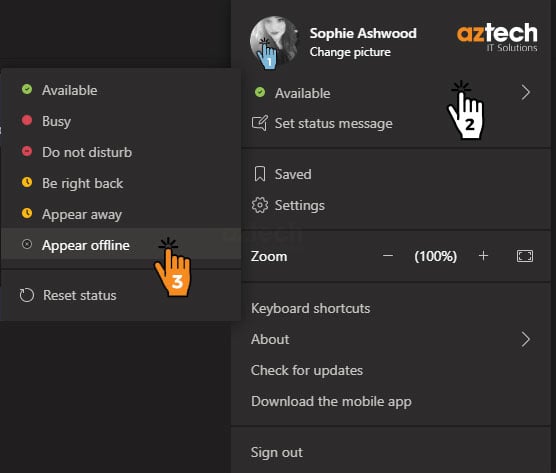 ---
AZTech IT Solutions is a Microsoft Gold Certified Partner, which means we have the highest degree of expertise in working with Microsoft technologies. Get in touch to see how we could help you transform your business by migrating to Microsoft 365, or see how much you could save by switching to us.