ITT, RFP, QRSTUV – What do they all mean?
Well… the last one is just the alphabet. However, the other two are acronyms for Invitation to Tender (ITT) and Request for Proposal (RFP), which are formal documents used by businesses to outline their purchase intent and provide background information when finding a vendor.
RFP and ITT can be used interchangeably, so for the purpose of this blog, we will refer to both as RFP.
What should you include in your RFP/ITT?
The contents of an RFP can vary depending on requirements, industries, and use cases; however, most RFP's follow a similar structure and require the same essential information.
Cover Letter/ Tender Letter
Whether you release an 'open tender' or a 'closed tender' will depend on the contents of this letter.
An 'Open Tender' means any supplier can review the tender and submit a bid. These are usually used in government environments to encourage unbiased decision making. A tender letter for an open tender is usually more generic.
A 'Closed Tender' is more specific and is only issued to select vendors, meaning it is a response by invitation only. This type of tender is usually used by for-profit organisations that have a prior understanding of the products or services they require. Tender letters for a closed tender are traditionally specific to the specific organisation.
Scope
This section of the RFP should include the scope of the procurement providing the potential supplier with information regarding the requirements such as start date, length of the project, value etc.
Ready for another acronym?
The scope of your procurement should be based on the MEAT (most economically advantageous tender), which compares technical capability with the price. This is key, as it creates a framework for deciding who you award the tender.
Submission Terms
The submission terms should outline how and when you want the tenders submitted.
Buyer Profile
This section should outline details about your business, including your business goals and objectives, along with background about your company. You should also include context on why you are procuring the services.
Award Criteria
In this section, you should outline how you will assess each tender. This section is down to your discretion; however, you should base the award on the bid that is the most economically advantageous tender (MEAT) for your business.
Based on the price-quality ratio, you should identify which tender is most economically advantageous.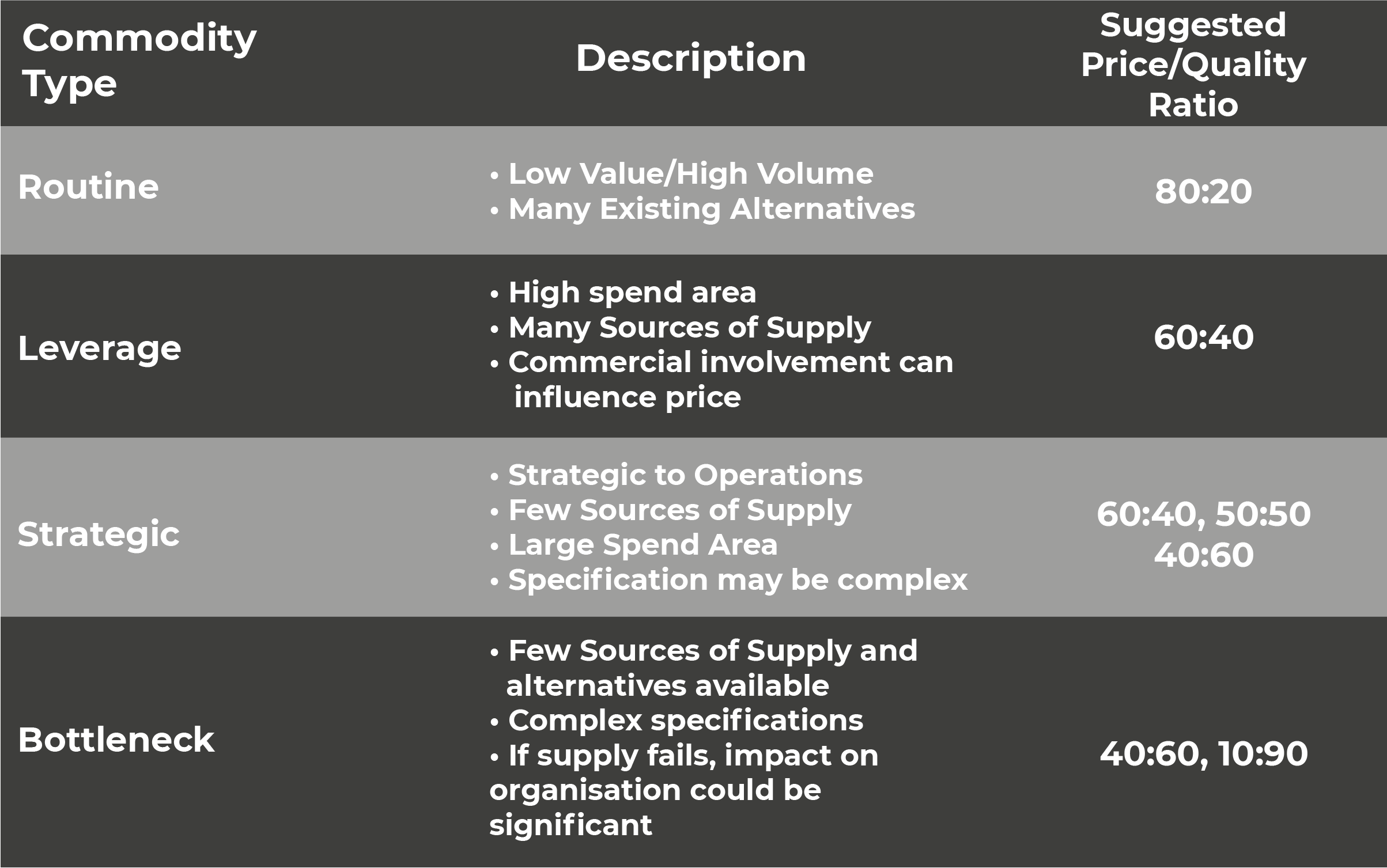 Table from procurementjourney.scot
Specification
Take your time on the specifications to ensure you only receive the most relevant and appropriate bids. Requirements of how you wish to receive information, such as timelines and pricing should be included here. In this section, you can provide frameworks and templates of how you require to receive specific information.
There is no defined length that an RFP must be; this will depend on the type of project you are procuring for. More information isn't always better; however, sections such as the specifications and submission terms should have enough detail for the vendor to supply accurate and appropriate information.
Related content