I am the newbie in the team and started at Aztech in July. I look after all of the Sales Administration and I'm really enjoying getting to know all of the Suppliers and Clients.
Born in Hong Kong I lived there 4 years before moving to London with my family and then onto Milton Keynes, where I attended local schools. After sixth form, I went onto Uni and graduated from Nottingham Trent University with a degree in Sociology and Politics. Prior to joining Aztech I was an Account Manager for a Software Company dealing with Procurement.
In my spare time I enjoy spending time with my boyfriend Jeff and we love paintballing and other outdoor activities mainly shooting. But on a lighter note I love baking, especially cupcakes!
My party trick is that I can lick my own elbow which I'm pretty proud of!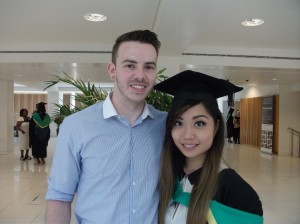 Me and my Boyfriend Jeff when I graduated in 2013.