Paul is one of the most charming and cheerful members of the team and after being with us for nearly a year has just taken on the Service Delivery Manager role.
'When I left school I thought I wanted to become a chef so I signed up to do a catering course at college but a week before I was due to start I had a change of heart and decided that I was actually pretty good with people and enjoyed IT, so felt that would be a better career choice for me.
I managed to get an IT Apprenticeship with a local company called Goldschmidt and since then I haven't looked back!
I stayed there for a few years and moved onto another local support role which I really enjoyed but after four years and with a baby on the way I needed more of a challenge which is when I found Aztech!
Since starting here I have really enjoyed working with the new systems, new challenges and getting to know the customers, it's extremely fast paced and no two days are the same but that what I love about it.
In my spare time I like motor sports, particularly the formula kind and I love cleaning my cars, which my wife hates as I have OCD when it comes to detailing and with a new baby I don't really have time for detail! I also enjoy cooking up a storm in the kitchen and kicking my feet up with a good film or TV series'.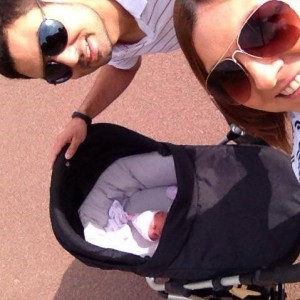 This is me and my wife, Eva with our beautiful daughter Izabelle