Chris is the Client Services Director and Co-Founder of Aztech IT. "Being the youngest of four brothers, as a child I was definitely the most easily led and would always be undertaking tasks which my brothers had dared me to do! I soon gained confidence though and people would now describe me as the most outgoing out of the four of us, so the constant teasing clearly didn't set me back!
As a youngster I loved sports especially football and used to play in a team called Willen, which my older brother Sean managed at the time. I also got picked to play for East Anglia and travelled around Europe to play which was a great experience.
I'm sure my Brothers wouldn't admit It but at school I was the most academic out of the four of us and once I'd finished I went onto do A Levels in English Literature and Sociology. I always had an interest in IT so instead of going onto University I decided to follow in the footsteps of my older brother Michael and gain my Microsoft Certifications and I've never looked back!
We founded Aztech IT back in 2006 and as Client Services Director I manage the helpdesk team and ensure the service we provide to our clients is always second to none, by implementing processes which drive efficiency and productivity. I have a great team around me which makes working at Aztech extremely enjoyable.
Outside of work I live with my beautiful wife Sarah and Superhero three year old Son – Seb. I love playing golf and am a closet One Direction Fan"!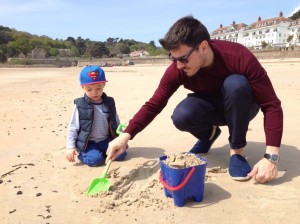 Me and Seb on the beach