It's been 3 weeks since the AZTech team started working from home, and 2 weeks since the UK has been in 'lockdown'.
An update on our plans for the coming weeks
We want to update and explain how we're adapting to this situation and to respond to the many questions we've received from you given recent events.
At this time, there has been no disruption to our services as our BCP allowed for work from home and our service-desk 24/7 NOC Monitoring, Backup, Cloud and Data Centre services continue to operate uninterrupted.

We expect this to continue throughout the crisis and are working diligently to ensure that is the case. We are continuously monitoring our response times, call and ticket volumes and closed ticket rates, and many other relevant metrics to ensure there is no degradation in our services.
How we're helping our clients
We wanted to share with you how we've been helping our clients during this time, and provide additional resources that could benefit you and others while we continue to work from home.
Microsoft Teams Workshops
As more users have been working from home, we've been organising Microsoft Teams Workshops for our clients, hosted by our Digital Transformation specialists.
We created these workshops to help, demonstrate and provide tips on how you can use Microsoft Teams to keep your communication open, easily collaborate and increase productivity.
Microsoft Teams is a great tool with a variety of helpful apps that can be utilised for every department, whether it's signing off invoices or collaborating on projects.
Our workshops are completely free with no hidden sales pitch - if you'd like to sign up to our free online workshops, please book in here.
Securing BYOD Devices
To assist our clients further, we've been helping to secure their home and BYOD devices to assist with business continuity and ensure business security whilst they remote work.
Working from home doesn't mean ignoring your usual security policies - if you're connecting to your organisation's network and accessing business data, you need to stay secure. Especially at the moment as cybercriminals are using COVID-19 to stop you thinking logically or questioning suspicious emails.
If you're unsure how secure your home devices are whilst working from home, please get in touch and we'd be happy to help.
Microsoft Licences
Microsoft are currently offering a free 6 month trial of Office 365 E1 - we've been applying the free licences to clients to help them adjust and be able to work remotely with ease.
The Office 365 E1 trial includes web-based Office apps and business services, such as Word, Excel and PowerPoint, email, file storage, as well as meetings and instant messaging. The trial includes 5 layers of security and monitoring to help keep your data safe and secure.
If you'd like to find out if you're eligible for the free trial and would like to start using it, please get in touch and we'd be happy to help.
We can provide training for your users and show you how easy it is to collaborate together in one place, even when working remotely.
Free Video Training
Microsoft
Microsoft have a variety of free training videos online to help you whether it's how to format in Excel or how to create and record meetings whilst remote working.

You can access their training videos here. If you click on the drop down menu (we've circled this below), you can find other playlists with training on Word, Outlook and more.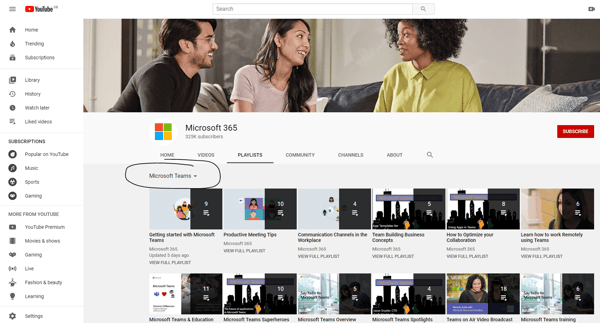 AZTech Client Hub
We have updated our Client Hub with an extensive collection of courses and training that ranges from Software Training, HR and Finance, to Online Security and more - these courses are simple to follow and are a great way to keep on top of your skills or learn something new.
To help where we can with the current situation, we are offering a limited number of licences free for 3 months, so users can complete the training while working from home or on furlough leave.
To help you further, we've been compiling information on free resources and other ways to assist you during this time.
Helpful Resources
Our blog, Technology and Productivity Tips While Working From Home, is updated frequently with information that can help while you remote work. It includes free resources we've found that can help your organisation with business continuity such as free Telephony Solutions or Collaboration Software.
This blog also contains information on how you can keep your users and organisation secure during the COVID-19 pandemic.
In addition to this, we've included tips to help you stay healthy and sane whether you are working from home or on furlough.
Other helpful resources:
- Be Cautious of COVID-19 Phishing Attacks
Our blog about COVID-19 Phishing Attacks shows examples of real phishing attacks that have been sent to businesses during the pandemic. We've included tips of how to detect phishing emails, as well as other ways your users can stay aware of scams during the Coronavirus outbreak.
- AZTech IT Solutions LinkedIn
If you haven't already, follow our LinkedIn page. We post helpful tips, information and business updates on there so you can stay up to date with us, find out about our events and workshops, as well as learn something new.
During this pandemic, we have been sending emails to our clients and subscribers about ways in which you can work effectively whilst working remote, as well as security tips and updates.
By signing up to our emails, you can be the first to find out about our workshops, receive monthly newsletters and get access to our latest special offers.
We have a variety of eBooks available for you to download on Microsoft Teams, Cyber Security and more.
---
If you need any assistance whilst working from home, whether it's setting up Telephony, securing your devices, or tips on how you can keep up productivity - please get in touch and we'd be happy to help you.