As the spread of COVID-19 (Coronavirus) continues and we are now being enforced to stay at home, has your business thought about the steps you need to take to be able to safely and securely work from home? Are your employees enabled to work effectively and remain productive with most appropriate remote working solutions?
In this blog we aim to provide some guidance and helpful tips for making working from home productive, secure, healthy, and business as close to usual as it can be...

We'll Cover;
General Remote Working Requirements
Some potential things to consider are as follows:
Are there enough SSL VPN licences to accommodate more remote working than usual?
Is the business and IT setup prepared for BYOD (Bring Your Own Device)?
Can we access our phone system remotely or divert calls easily?
Do we have spare laptops/devices that users can use when working from home?
Remote Working Solutions
Windows Virtual Desktop
Windows Virtual Desktop (WVD) is a desktop and app virtualisation service that runs in the cloud and is delivered on Azure. Microsoft has made this virtual desktop experience the same, or even better, than a physical desktop making it ideal for using when working from home.
They can be configured with your organisation's apps, software and users' account information. This is so, no matter what computer they log into, they'll be able to access the documents, apps and more that are needed for them to do their job, through the Windows Virtual Desktop.
How do you use WVD?
To use Windows Virtual Desktop, you need a Windows 10 subscription license and Azure environment with all the prerequisites met.
Get in touch to see if you can start using Windows Virtual Desktops.
Microsoft Teams
'Work remotely without feeling remote'. Microsoft Teams allows you to chat, meet, call and collaborate in one place, making it an ideal tool to assist with continuous communication when working from home.
Meetings
With Microsoft Teams, you can continue to have your meetings – whether it's with video conferencing or just a phone call with your mic and audio. Use features like background blur to block out background distractions, and screen share to view the same documents during your meeting. You can even record your meetings so that attendees can listen in when they get a chance.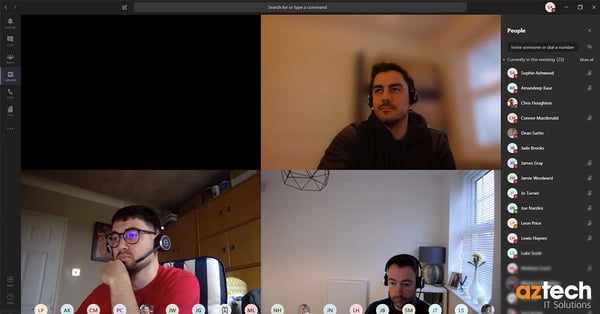 Phone Calls
If you don't have a Telephony service for making calls, you can make calls through Microsoft Teams, even if the person isn't in your organisation. Simply to go 'Calls' and click 'Dial a number' and enter the number you wish to call – just make sure you have an internet connection. If you don't have this option in Microsoft Teams, you'll need to set up a calling plan.
Read our other blogs on Microsoft Teams to learn more about what you can do.
Don't have Microsoft Teams yet?
Microsoft have a free version of Teams - find out what's included here.
Microsoft Office 365
Office 365 is ideal for working from home – it's just like Microsoft Office, but in the cloud. You have all your usual apps such as Word, Excel, PowerPoint as well as Microsoft Teams, OneDrive and more. By saving your documents in OneDrive, you'll be able to continue working on them wherever you are, as long as you have an internet connection.
You can collaborate on documents in real time with your colleagues and share your work in a secure environment.
If you aren't using Office 365 and would like to try it, Microsoft are currently offering a 6 month free trial. Find out more here.
How to ensure IT security when working from home?
Changing to a remote workforce can be challenging, especially when trying to keep your business data secure if you're utilising BYOD (Bring Your Own Device). These 5 tips can help you provide additional layers of security for your remote workforce.

1. Make sure you provide your staff with basic security advice
This can be things such as, how to detect Phishing emails and not to click links or download attachments in suspicious emails. Try to avoid public WIFI connections, and when they do connect to the internet, to make sure it's a secure network, with a password that has been changed from the original.

If you need a guide to get you started, our Cyber Security eBook has some helpful tips about keeping your data secure, or check out our blog posts about CyberSecurity.

2. Provide VPN access
VPN stands for Virtual Private Network – it provides an additional layer of security to allow your staff to connect to your business network safely and securely, they'll be able to work on documents and use their usual apps as if they were in the office.

VPNs like SSL VPN are a type of Virtual Private Network that uses Secure Sockets Layer protocol. It enables devices with an internet connection to establish a secure remote-access VPN connection with a web browser.

They work by hiding the user's IP address, encrypting data transfers and masking the user's location.

Does your organisation have enough licenses to accommodate all your staff working from home? If you're unsure, please get in touch and we can help.

3. Multi-factor authentication (MFA)
If you haven't already, make sure you set up multi-factor authentication (aka 2FA/MFA) as this provides another layer of security. It works by providing something you know, such as your password or pin, as well as something else, such as an OTP aka one-time passcode or your fingerprint.

If you're unsure where you can use MFA, or how to set it up, please get in touch and we can help you get started.

4. Keep software up to date
Make sure any laptops and devices your staff are using whilst working from home are up to date with patch management. Keeping your software up to date means that any vulnerabilities that may have been in previous versions are now protected with the latest security.

5. Permissions
Make sure your users have the correct or lowest set of permissions they need on a device. If you follow your usual security policies that are instilled in the office for your remote workers, you can help keep your data protected.



With the right tools and security policies in place, your business can continue to work as usual, even if your users aren't in the office. By employing tools such as Microsoft Teams, Office 365 and even Windows Virtual Desktop, your users can continue to work, collaborate and communicate together as they would when working in the office.

If you need help setting up your users for remote work, would like assistance, or even some guidance on how to ensure security when working from home, please get in touch and we'd be happy to help.
Productivity and Remote Collaboration
If you need assistance keeping up productivity and collaborating remotely with your colleagues, there are a variety of tools available for you to use, such as:
Microsoft Teams
Microsoft Teams is a teamwork hub and Office 365 team app that fuses group chat software with collaboration tools. With Teams, you can Chat, Meet, Call and Collaborate from anywhere. You can have 1-1 conversations, video conferences with Teams of 10 or 10,000, and access, share, and edit Words docs, PowerPoint, and excel files in real time, together.

Horizon Collaborate
Gamma's Horizon Collaborate is suitable for any sized business that wants to improve productivity, increase collaboration and speed up business decisions.
Instant Message - Use the online chat between users to reduce emails
Video call - Collaborate together with video calls from your mobile or desktop app
Presence - Show your up to date status so your colleagues know when you're free
Ad-Hoc & Planned Conferencing - Use 'My Room' to fully manage your conference calls for voice, video and sharing
Collaborate fully integrates with the Horizon Hosted PBX Service and supports all the features and functionality of the telephony service for a unified communications experience.

If you're an existing Horizon customer, you get get 4 months of horizon Collaborate for free - find out more here.
Slack
Slack brings your communication together and creates an easier, more organised way to work.
You can collaborate and work together within channels, using them for teams, projects, clients and more. Your members can easily join and leave the channels as and when needed.
With Slack you can:
• Share channels with your colleagues, clients, vendors and partners
• Have voice and video calls directly through Slack
• Share your screen during video calls
• Easily share files in one location
• Use your usual apps within Slack
Google
Google Hangouts is a free tool you can use to keep in touch - message your colleagues, have video or voice calls and have conversations with one or multiple people.
Free Resources During Pandemic
Microsoft Teams
If you do not currently have access to Microsoft Teams, you can sign up for free for up to 300 users.
In the free version of Microsoft Teams, you'll have access to –
Unlimited chat and search
Video Calling
Team and personal file storage (10GB of team file storage and 2GB of personal file storage)
Real time collaboration with your Office apps, including Excel, Word, OneNote and PowerPoint

If you'd like more storage and compatibility with your OneDrive, there are multiple plans for you to choose from, get in touch to find out more.
Microsoft Office 365 E1
Microsoft are currently offering a free 6 month trial of Office 365 E1. You'll have access to:
- Web-based Office apps and business services
- Email, file storage and sharing, meetings, and instant messaging
- Five layers of security and monitoring help keep your data safe
Check if you're eligible here.
Horizon Collaborate
Gamma are currently offering existing Horizon customers 4 months for free of Horizon Collaborate.
Horizon Collaborate provides a range of services, such as:
Desktop and application sharing
Instant Messaging
Presence
Voice
Video and document sharing

It enables users to access business communications and collaboration services from any device, wherever they are.
Monday.com
Monday are offering free and complete use of their platform to any non-profit organisation working to fight the Coronavirus outbreak.
In addition to this, they have put together templates for you to use whilst remote working such as:
Amazon Web Services
AWS have a variety of free offers going at the moment for Amazon Chime, Amazon Connect and Amazon WorkSpaces.
Amazon Chime - Free use of all Amazon Chime Pro features for online meetings and video conferencing from March 4th 2020 to June 30th 2020 for all new customers to Amazon Chime.
Amazon Connect - Part of the AWS Free Tier, you can use Amazon Connect for free for the first 12 months
Amazon WorkSpaces - New Amazon WorkSpaces customers can get started immediately with the AWS Free Trial - from April 1st, AWS will offer free use of Amazon WorkSpaces with Standard, Value, and Performance bundles for up to 50 WorkSpaces through to June 30th 2020.
Free Video Training from LinkedIn
LinkedIn offers a variety of training videos and courses you can sign up to for free.
Find out more about their WFH courses here.
LinkedIn also has a learning centre where you can gain access to a wide range of courses to suit you, and you can access the courses free for a month.
Staying Healthy and Sane
As most of us will be working from home, it's important that we try and stay healthy and sane during this time.
Communication
Increase your channels of communication - Call your colleagues, communicate through Microsoft Teams or other chat services you may be using, and still have your meetings as you would do if you were in the office. It's important that you keep all communication channels open so you don't feel so isolated.
Just because you're working from home doesn't mean you can't collaborate with your teams, or stop having your usual 'kitchen' catch ups.
Exercise
As recommended by the government, you can go outside for exercise, but if you have a garden, try and exercise at home.
Get some fresh air and try and run or walk around your garden. If you can't do this, go for a walk but make sure you stick to social distancing and stay 2 metres away from other people, and do not go in groups. Wash your hands as soon as you get in.
If you're used to going to the gym, try watching Youtube videos for 'at home workouts'. Exercising releases endorphins, which release a positive feeling in your body, thus helping you be happier whilst staying indoors.
Breaks
Just because you're working from home, doesn't mean you shouldn't take your usual breaks. If you usually have lunch at 12pm, make sure you go to lunch. If you stop to have a cup of tea or coffee at 11am, still go and grab a drink. Also, make sure you finish on time - when working from home, you can easily get distracted and not realise you've gone over your normal working hours, but working from home doesn't mean you're tied to your computer - your normal routine should be stuck to when you're at home.
Get Dressed
For most people, working from home means staying in your pyjamas. However, getting dressed, even if it's putting on a different set of pyjamas, can make you feel ready for the day and put you in the right mindset to work.
---
We will be updating this page with more information and other tips and tricks for working from home, so keep this page bookmarked.
If you need help working from home, whether it's setting you up with Microsoft Teams, VPNs or general advice, please get in touch and we'd be happy to help.